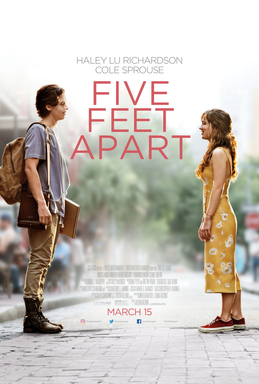 پارسا۱۲۳؟., CC BY-SA 4.0 , via Wikimedia Commons
Director Justin Baldoni shows how illnesses can impact life in a short matter of time in the movie "Five Feet Apart."
This movie starts out introducing the main characters Stella (played by Haley Lu Richardson) and Will Newman (played by Cole Sprouse). Stella spends most of her life in the hospital, due to being a Cystic Fibrosis patient. Challenged by the many routines, schedules and medicines she has to take, she meets Will, a teenage boy who happens to struggle with Cystic Fibrosis as well. They have to follow a strict rule of being six feet apart so each person's bacteria doesn't spread to the other person. Throughout the movie as their flirtatiousness intensifies, so does their temptation to break rules just to be together.
The movie begins with Stella saying goodbye to her friends as they leave to go to an event she planned. Unfortunately, she is unable to go, since she has to stay in the hospital for her medications. While her friends are gone, she visits the Neonatal Intensive Care Unit to see the babies, since it is her favorite place to go to in the hospital. This is when Will Newman is welcomed into the next scenes. He follows her to the NICU and begins to introduce himself in an arrogant manner. A nurse then comes in and realizes that they aren't six feet apart, and she sends Will to his room. 
The movie then continues to show the growth between the two's relationship, and share their experiences as they date from a distance and learn more about each other, like the death of Stella's sister. Along the way, Stella loses a close friend of hers and feels like everyone in her life is dying. Knowing her kind heart, that is the last thing she wants for Will, so she learns to respect the rules more and help him follow his regimen. They try things they both have wanted to try before, and battle through their illness together. Stella and Will feel like they are on top of the world, until one night when both of their lives are put on the line. 
This movie shows just how everything happens for a reason, even though it may be frustrating sometimes. True emotions are shown through this movie, and almost give off the feeling like you yourself are going through everything that is happening. The characters played their roles very well, and really dug deep into what it meant to fall in love and sometimes have it taken from you in a short matter of time.