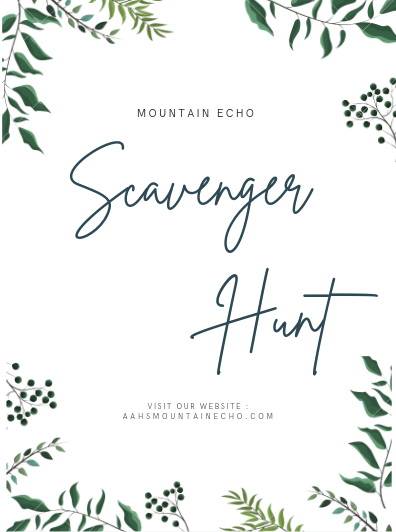 Danielle Bardelang
On April 14, the Mountain Echo news staff will be conducting an online scavenger hunt. All students can participate.  
The news staff has been working hard to cover stories that inform students about what is happening in and out of the normal school day. This scavenger hunt will bring more students to the website to see just what is going on in the school. 
"We are a student run publication where we fund, organize and publish content completely on our own," senior and editor in chief Benjamin Blackie said.
Although COVID-19 has affected many organizations, the Mountain Echo has been keeping up with the AAHS community. Staff members have covered everything from school sports to new classes. 
"On the website you can find weekly feature stories, news stories and opinion stories. We also have photos of the week, reviews and polls on the website," Lear said.
The staff has been working to keep the website up to date. The daily announcements can be found at the top of the home page. 
"The Mountain Echo provides new information to students and staff. We update our content weekly with interesting and newsworthy stories," Blackie said.
Lunch menus and polls are updated every week. Sports schedules and final scores are updated as needed. 
"I am a reporter. This job requires me to do interviews, write stories and take pictures. I also do the photo of the week on the site. Most people on the staff right now are working together on a homecoming story," Lear said.
The online scavenger hunt will begin on April 14 and will close April 21. The hunt will consist of 25 questions that can all be answered from the information given on the website. 
"As of right now, we are working to earn new SNO badges and receive as many Best Of SNOs as possible. The Mountain Echo provides new information to students and staff," Blackie said. 
The winner of the scavenger hunt will be announced April 23. The winner will receive a prize.