Senior staff members say goodbye
May 28, 2021
With the school year coming to a close, the time has come for the senior Mountain Echo and Horseshoe staff members to say 'farewell' to their fellow staff members.
Newspaper Editor in Chief Ben Blackie has been a part of journalism since his freshman year, writing for the Livewire then moving to the Mountain Echo in high school.
"My favorite part about being on the staff was forming relationships with my classmates. I have received multiple Best of SNO awards, was accepted into the NSPA honor roll and have been Editor in Chief for the past two years," Blackie said.
Senior Jocelyn Fetter is the Editor in Chief for the Horseshoe yearbook. She has been on that staff for two years as well as the Mountain Echo staff for four years.
"My favorite part about being on the staff is that we have so much creative freedom, and the fact that we have almost formed a small family by being on the staff together. Especially us seniors, this is our fourth year together, and we have all had each other's back and shared so many laughs throughout those years. It's hard to believe it's all coming to an end so soon," Fetter said. 
Fetter has also had many accomplishments in her years on both staffs.
"I was on the 2021 Journalism Honor Roll for the National Scholastic Press Association. I have also received Best of SNO awards for some of my stories. The yearbook that I was an editor for won awards for how well the book was put together, and I can't forget that Ben and I joined together and had our first ever senior week!" Fetter said.
Senior Sydney Wilfong has been a part of the newspaper since ninth grade and has been the content editor for the past two years.
"Being on the staff has taught me so much, but it's also allowed me to create friendships and bonds with people, both inside and outside of the staff. Those friendships I have made are my favorite part of coming to the newspaper room every day. It helps too that the staff gets along with each other so well," Wilfong said. "As for accomplishments, I've won several Best of SNO awards for my articles, and in ninth grade I placed runner-up in the JEA's Aspiring Young Journalist Award."
For senior Sonia Yost, she never actually intended to be on the staff during her sophomore year, but ended up sticking with it for the remainder of high school. She is also on the Horseshoe staff this year as well as her freshman year.
"My favorite part of being on either staff has been being able to document the history of the school as it is happening so that in the future, if people are ever curious about what happened during the school year, they could read something I wrote to find out what happened. Also, getting to interview people and hear their stories and perspectives is something that I loved doing," Yost said.
Yost has many proud accomplishments.
"I got the Mountain Echo's first ever best of SNO in my sophomore year for a story I did on foreign movie night and during my junior year I worked with the other editors to publish our first physical newspaper in over 10 years. This year, I have been helping a lot with the yearbook and picking up pages for community service, so just the volume of work I've done is an accomplishment," Yost said. 
Some of Yost's favorite memories were during her sophomore year.
"During my sophomore year, Sydney, Caden [McMaster] and I would always do Echo in the Halls together, and it was so much fun to do it with them because we ended up being friends for the rest of high school because of that and those friendships have led to many more fun memories," Yost said. 
Blackie and Fetter's favorite memory from being on the staff was being able to organize and participate in senior week, plus other fun activities they have participated in.
"Being able to help create a great memory for so many of my classmates made me feel accomplished," Blackie said.
"We all worked so hard to plan and make everything go perfectly and smoothly and got to celebrate together. I will also never forget the conventions we attended together and all the times we've sat together and talked about anything and everything–those moments are the ones I will cherish the most," Fetter said.
Wilfong enjoyed staff parties and podcasting the most.
"I have so many great memories. Honestly, any time the staff had a party became a fun memory–especially that time when Connor [George] sang karaoke. And every time Caden, Sonia and I record a podcast episode we always make new and fun memories. I've had friends that have said to me that when they walk past the newspaper room that it always looks like we are having fun, and it's true," Wilfong said.
Blackie and Wilfong have advice for the editors for years to come.
"My advice to upcoming editors would be to be friendly, try and give everyone the  benefit of the doubt and treat people the way you want to be treated. I would also say to work together with everyone as much as possible. Although you play in a leading position, don't take everything too seriously and make sure everyone is having fun," Blackie said.
"My advice would be to focus on building relationships with the rest of the staff. Communication is key when working together, and the same goes for always being honest and kind to one another. A staff that isn't close and isn't comfortable won't be able to put out the best stories or news. When editing, you want reporters to feel comfortable to ask you questions and make mistakes; they shouldn't be intimidated by you or what you will say to them," Wilfong said.
Fetter will miss her fellow senior staff members and wishes nothing but the best for them.
"These past four years have flown by faster than I ever could have expected. I never would have thought that my high school experience would end like this, nor that I would be living through a pandemic. Over the past year I have changed and grown so much as a person, and I have watched a lot of my peers do the same," Fetter said. "At the end of the day, it was always a safe space for me to come to newspaper or yearbook class and be around the people who I was comfortable being myself around. I also can't help but choke up thinking about my fellow senior classmates who have become some of my best friends, moving on in life and all of us going our separate ways. I wish nothing but the best to you guys, I hope you succeed in everything you do, and I hope we all cross paths again soon. And to the underclassmen who I have grown with equally as much, I hope you guys soak up the memories from the newsroom, and you cherish each other's presence because I have also learned this year that you never know what the next day is going to hold, tomorrow is never promised, and I wish you nothing but success and happiness."
Wilfong is incredibly grateful for her experience on the newspaper staff.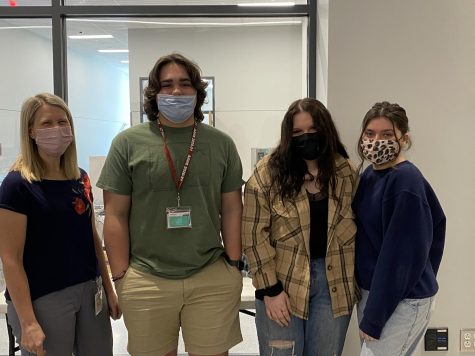 "It is crazy to think that I will be on the staff for only a few more weeks. Newspaper has been such a major part of my high school experience, and I'm incredibly grateful that it was. I think being on the newspaper staff has given me a sense of responsibility and independence that most classes fail to offer, so I really mean it when I say the newspaper has helped me become a hard worker. Special thanks to Mrs. Vanish for being one of the best advisers out there too. She doesn't get enough credit for how hard she works, the dedication she has for her students and how she was able to turn the Mountain Echo into a fully student run newspaper. I've definitely learned so much from her," Wilfong said.