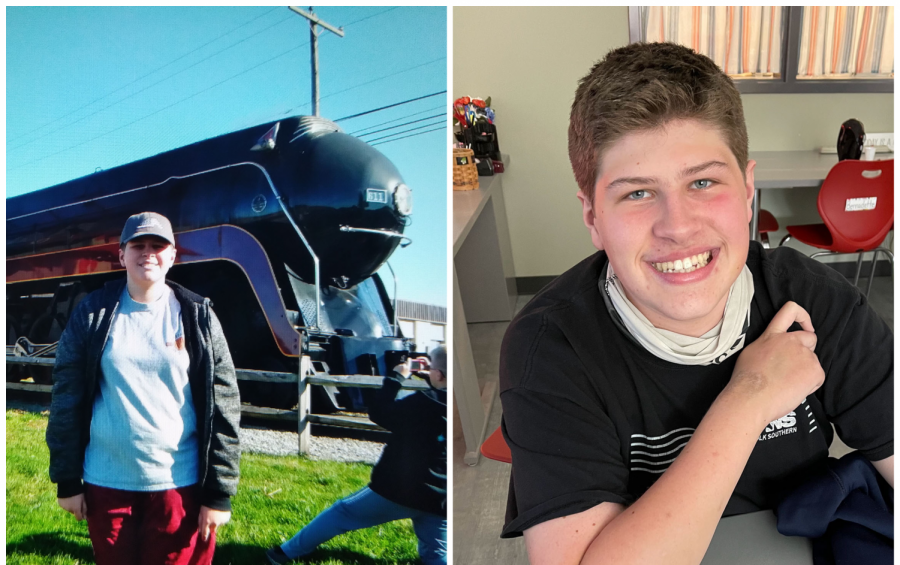 Smith discusses love for trains, showcases exceptional memory
Sophomore Connor Smith can remember most anything that has to do with his favorite thing: trains.
June 3, 2021
Sophomore Connor Smith has an impressive love for all types of trains, but what is just as impressive about Smith is his memory. Just from hearing the name of a train, Smith can identify and recall both the train's color and engine number.
When Smith does this, he does so without hesitation and is able to remember the tiniest details.
"CSX is blue and yellowish. New York Central is kind of black and white and grayish. The Conrail 8098 is blue and white. New Jersey Heritage is orange and dark blue. 1070 is white, blue and grey. Virginia is yellow, black and yellow. The Lehigh Valley is red and yellow with white and blackish. Penn Central 1073 is black and white. CS44 Challenger is a new one. The 44100 was introduced this year too," Smith said. 
Regarding his impressive memory, Smith can recall specific days and dates when he saw trains he liked.  
"One time when I was at my grandfather's house after my brother went to Pittsburgh, I saw a S4001 leading a freight train. Last September, I saw 7240 was cruising down, heading to Altoona and I met it, I did. I think on a Wednesday night I saw a 7254. 7250 was coming to Altoona with two GP locomotives," Smith said. 
"
My favorite engine number is 7230. Last September, I actually saw it,"
— sophomore Connor Smith
Smith recognizes different types of engines as well, such as steam and electric engines. 
"Norfolk & Western is blue and yellow. 611 is a steam engine and is the Queen of Steam. 475 is a railroad steam engine, a Norfolk & Western, too," Smith said. 
For Smith, he doesn't exactly know how he memorizes numbers and trains so quickly; remembering just comes easy to him.  
"I was looking at the number of the engines online and was just memorizing them," Smith said. 
Smith has always been interested in trains as long as he can remember. When he was younger, he enjoyed watching the popular children's television show "Thomas & Friends." Although fictional, Smith still remembers the types of trains on the show. 
"My favorite character on that show is Connor because he has the same name as me. Connor is a streamline engine and is a New York Central Hudson [train]…that's why they built him like that," Smith said. 
Smith loves Norfolk Southern as well, even owning a t-shirt with the logo on it. He enjoys watching Norfolk trains pass by. Smith has been to the Strasburg Railroad in Lancaster where he has watched trains as well. However, his favorite place to watch trains is at Tyrone's railway station.
Smith has followed 7230 since the beginning of the school year. Railroad companies constantly rotate their inventory for new trains, meaning they sell trains often which Smith is always on the look-out for. To keep updated with the current news, Smith regularly checks the engine roster to know which trains have been sold and if any trains have been damaged.
"I listen to my scan radio app for Norfolk Southern to see what's going on. In 2017, 4001 got in a wreck–it derailed. The cab on the engine side got smashed and it was bad," Smith said.
With all the trains that Smith has seen and knows of, there is still one engine in particular that is his favorite.
"My favorite engine number is 7230. Last September, I actually saw it," Smith said.
When Smith is not watching and learning about trains, he likes to play baseball which is something he has a lot of experience with. 
"In 2015, I was with the Miracle League. I quit that team in 2018 [and] I went to Cranberry Township. The bat I have is blue and grey, has a horse on it and has my name on it. In 2019, I hit my 14th home-run," Smith said.
Smith has made a lot of special friends from baseball, especially one friend in particular that he deeply misses.
"I met this guy from Boston, Massachusetts named Chris Sharpe [from the Pittsburgh Pirates]. He is my best friend; I met him and I really miss him, I do. On my birthday I talked to him, and he wished me a happy birthday. I've missed him every day of my life," Smith said.
Smith also enjoys riding his Yamaha Grizzly four-wheeler, building LEGOs and watching movies such as "Aquaman" and "Sonic the Hedgehog."