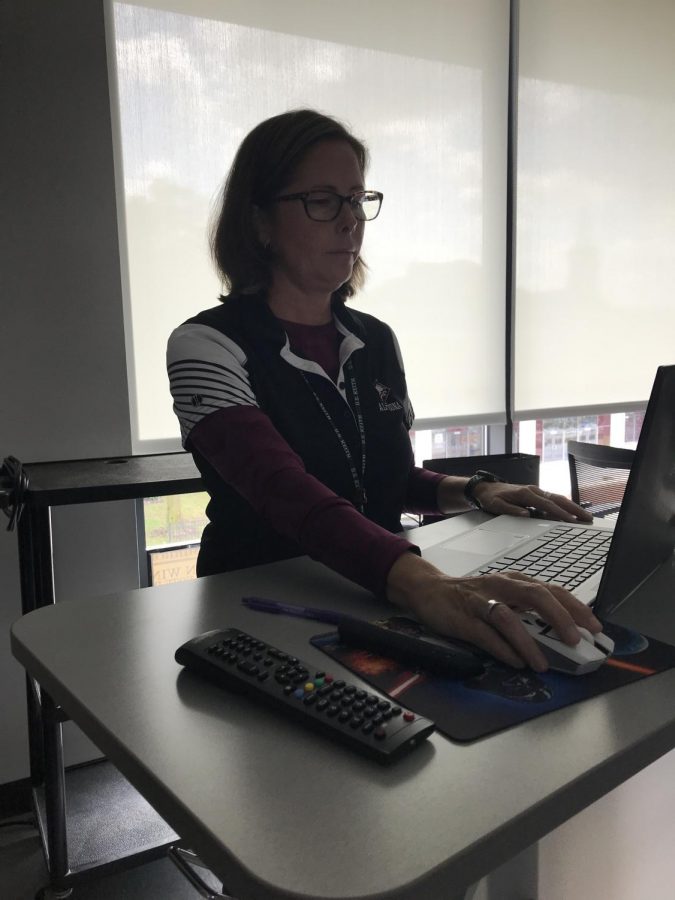 Heather Eckles
Q: Where did you go to high school and could you describe your high school experience?
A: I graduated from Altoona in 1995. I think our student body was about the same size. But it was tenth, eleventh and twelfth. There was a big change from junior high to high school. In the high school there were so many kids in one place that there weren't any cliques, like you could just belong. I really enjoyed it; I played sports. I played volleyball and softball. It was a good experience; it was a good education. It prepared me for college. 
Q: How have the first few weeks of school gone for you?
A: Really busy. I don't have it all figured out just yet, but I make a point trying to come to work in a positive mood. It will all come together; I know that it's just going to take some time. 
Q: If you could describe your new classroom in one word what would it be? 
A: I would say, it's a mirror of myself. It's a mirror of myself in the fact I absolutely live and breathe my subject: social studies. For me, it was all about September 11 2001; that event changed the trajectory of my life. 
Q: Could you describe your prior teaching experience?
A: I was a part time instructor at Penn State Altoona for eight years. I also taught part time at Penn Highlands Community College. 
Q: What got you interested in the subject you teach and what was your favorite growing up?
A: Okay so, honestly September 11 had a huge impact on my life; I graduated college, and I didn't have much knowledge American history. My teachers did a great job in high school, but some things you remember some things you don't.  I was on a mission; I wanted to know why this happened to our country. … I had no intention of teaching. I never knew what I wanted to do in high school. My favorite subject growing up was history. I had this sixth grade … that was just amazing. 
Q: What brought you to Altoona to teach? 
A: Six years ago my mother died, and I knew I needed to make a change as a single woman. I knew my sisters taught, and my dad is really invested. I went to Saint Mary's. I live five blocks away … so I knew it was meant to be. I live in Altoona, and I love Altoona. 
Q: What inspired you to become a teacher?
A: It was kind  of by accident; I didn't mean to become a teacher. Penn State Altoona needed a history instructor, and I happened to need a job. But really I think it's in the blood. In my family there's three professions; teachers, plumbers and nurses. … I love teaching because you're not stuck behind a desk all day. … Interact with kids, hear what you guys have to say, because a lot of the times you guys change my mind. 
Q: Why did you choose to teach high school?
A: Honestly high school because it's closest to the level I taught before. … Not that younger children aren't able to do that, they just haven't been as exposed to older subjects.
Q: What would be a suggestion you have to make AAHS better?
A: I think that the demographic has changed. We built this high school to bring people to Altoona. It has done just that. Now that we've done it; we're resisting it. Native born people need to be more welcoming to the new people. I see that there is definitely a divide between those who were here and those who came here. So we can all be on the same page.
Q: If you could teach another subject what would it be and why?
A: Science, it's one of those subjects I didn't care much about when I was younger, but now that I'm older I can see that there's so much that I don't know. Science has a way to break things down to understand how it's connected. The more I learn about the universe I understand, wow it was such a freak accident that we're here. … So, yeah, science. 
Q: What is your go to snack or lunch item to bring with you to school?
A: I want to go local. Boyer Mallow cups. 
Q: If you could choose one fast food restaurant to be in the school cafeteria what would it be and what would you order there?
A: Definitely McDonald's because it was my first job, and I would have chicken nuggets and vanilla icing.
Q: Who has been the most help to you as you have started this new job?
A: Mrs. Shope and Mrs. Kline. Mrs. Shope is the social studies department teacher, and she is the most organized person and comes to work each day with a positive attitude. Mrs. Kline is my mentor, Kline inspires me to want to do more with our community, and I've never seen her without a smile. Those two ladies are positive.