Alum to compete in Miss America Pageant
Altoona Alum Meghan Sinisi is the current Miss Pennsylvania and will be competing in the 100th Anniversary of the Miss America Pageant in December.
During her high school years, Sinisi was active in the school district, but she often felt out of place.
"I was a majorette in the marching band in junior high and high school. I also participated in indoor majorette competitions with AAHS. I won Homecoming Queen during my senior year [October 2012] representing the majorettes. I was on the Homecoming committee my junior year, and I participated in the school-to-career program during my senior year. I was also in drama club, was cast in the Aladdin musical and played on the Lady Spikers Volleyball team during my freshman year of high school. I faced the challenge of not always feeling like I fit in. I often felt shy and out of place around a lot of my peers and it took me a long time to learn how to be confident in who I am," Sinisi said.
Sinisi was crowned the 2013 Homecoming Queen. With the title, she had the opportunity to work with the life skill classes and found her impact initiative.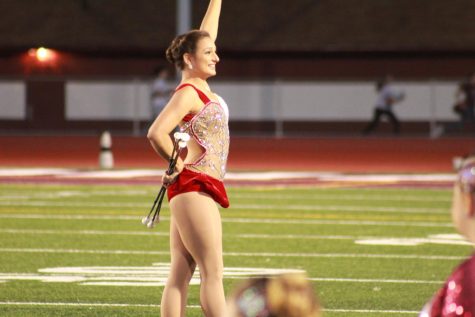 "After winning Homecoming Queen at Altoona, I asked to visit the life skills classroom at AAHS and spend time with the students in special education. After hanging out with them, I realized how much I had been told about autism during autism awareness month [April], but how I never was given an opportunity to learn about the people behind the autism label. I recognized how many stereotypes and misconceptions there are about people on the spectrum, and I became interested in learning more about it to help others understand it better, too. After that, I decided to go to college to become a speech therapist to help people with autism strengthen their communication skills. Once I discovered the Miss America Organization in my sophomore year, I also found out that the organization asks each of its candidates to choose a cause they care about to promote through their year of service. It was a no-brainer that I would advocate for autism acceptance, inclusion and diversity," Sinisi said.
Sinisi is a graduate of the class of 2013. She went on to study at Syracuse University and the University of Missouri.
"I had always dreamed of being the feature twirler for a collegiate marching band, and Syracuse not only had a feature twirler, but they also had a prestigious academic program that was very appealing. I attended the University of Missouri for my master's degree. I was hoping to attend a graduate program in Pennsylvania, but the graduate application process for speech-language pathology is very competitive, so I applied out of state as well. Mizzou was the first school I received an acceptance letter from, so I decided to visit the campus just to see if I liked it. After visiting, I realized that it was the perfect fit for what I was looking for. The faculty was extremely welcoming and supportive, and I loved the layout of their program," Sinisi said.
According to the Miss America website and the Miss America mission statement, her job is "to prepare great women for the world, and to prepare the world for great women." Sinisi does this through her impact initiative: 'From A New Perspective'.
"As Miss Pennsylvania, I continue to operate my nonprofit organization, 'From a New Perspective,' to help connect families with autism resources and raise money for scholarships and installing sensory rooms in public venues. These types of initiatives allow for people with autism to access more opportunities, have fun and achieve success. I also am the co-host of a weekly podcast series called 'Spectrum Sundays'. In this series, we interview parents, professionals and self-advocates to share their stories and create a community of inclusion, appreciation and acceptance around autism. I also visit schools to teach students about autism and share with them ways to be inclusive and welcoming to others, especially to their peers with disabilities. I ask each student to pledge to be an Acceptance Ambassador which means being a leader that always shows that it is cool to be kind. Additionally, I participate in a variety of community events with different autism organizations that support children and families on the spectrum," Sinisi said.
Through her journey as Miss Pennsylvania, Sinisi has had support from her family and local sponsors.
"My family has supported me through thick and thin. They have always given me space to explore my interests, and have always cheered for me, no matter how crazy my dreams seemed. They have come to all of my twirling performances and competitions growing up, helped me through college and now they support me in any way they can during my year as Miss Pennsylvania. The greatest way they have supported me is in the way they raised me to be a kind, caring and compassionate supporter to other people in their journeys as well. Another part of my job as Miss Pennsylvania is to promote local businesses across Pennsylvania who sponsor the Miss PA Scholarship Foundation. For example, I was given a car to drive throughout the year from Hanover Auto Team, and 31:25 Boutique in Altoona has partnered with me to provide a wardrobe for me to wear throughout the year," Sinisi said.
As Miss Pennsylvania, Sinisi takes part in Interviews. After she was crowned she participated in an interview with the Altoona Mirror. Part of the Miss America pageant is an on stage interview. The most asked question she hears is "why do you want to be Miss America?".
"My answer is that I want to be Miss America so I can show young people everywhere that it doesn't matter where you come from, you can achieve great things. I come from a family who had to work really hard to make sure we had what we needed in life. Because of this, I learned determination, discipline and a strong work ethic, but it also taught me a tremendous amount of empathy and compassion for others. My path to Miss America was not linear, but every twist and turn along the way showed me how much I relate to the everyday person who is chasing their dreams. I am a living example of what it means not to give up and being Miss America will help me inspire others never to give up, either," Sinisi said.
When reflecting on her high school years, she expressed her most memorable teacher. She also remembers the life lessons she learned.
"Mr. Lowe truly cared about the success of each student in his classes and made learning fun. I miss how simple life was when I was in high school. I loved having majorette practice on the I.M. field under the lights, and I especially miss Friday night football games. I also miss having a consistent schedule and being able to learn something new in class every day. Always be kind to the people around you. Everyone is fighting a battle you know nothing about, and small acts of kindness can be the reason someone doesn't give up. I love the quote by Maya Angelou that states: 'people will forget what you said, people will forget what you did, but people will never forget how you made them feel.' Angelou," Sinisi said.
On  Sept. 3  Sinisi performed at Friday night's football game. She spoke with the band and band fronts the day prior about her journey as Miss PA.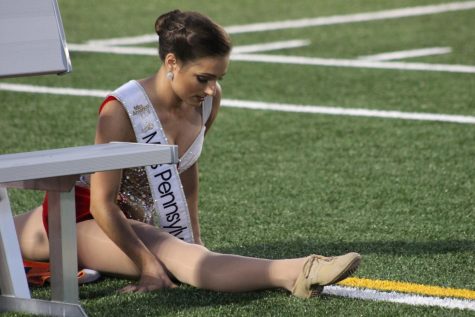 "It was absolutely incredible to be back to perform with the Altoona Marching Band! I had never had an opportunity to perform as a feature twirler in high school, so this performance was extra special. It was also so cool to see and hear all the traditions that were a part of the band when I was a majorette still being used today. I also loved speaking with the band students at their rehearsal the evening before the game and really appreciated the questions they had to ask about my time in band and my life as Miss Pennsylvania. It was amazing to connect with so many young kids and to share about how marching bands gave me endless opportunities and made my life so much more exciting," Sinisi said.
The 100th Anniversary of the Miss America pageant will be held in December at the Mohegan Sun Resort and Casino in Uncasville, Conn.. It will be livestreamed for the preliminary competitions on Sunday, Dec. 13 and Monday, Dec. 14. The final night of competition and crowning of Miss America 2022 will be broadcasted on live TV on Thursday, Dec. 16, 2021.
Make sure to follow Sinisi's Journey as Miss Pennsylvania to the Miss America stage .
Miss Pennsylvania Website: https://misspa.org/miss-america/
Miss America Website:  https://www.missamerica.org/
Meghan's Non-profit Organization Website: https://www.fromanewperspective.org/
Miss Pennsylvania Facebook: https://www.facebook.com/MissAmericaPA
Miss Pennsylvania Instagram: https://www.instagram.com/missamericapa/