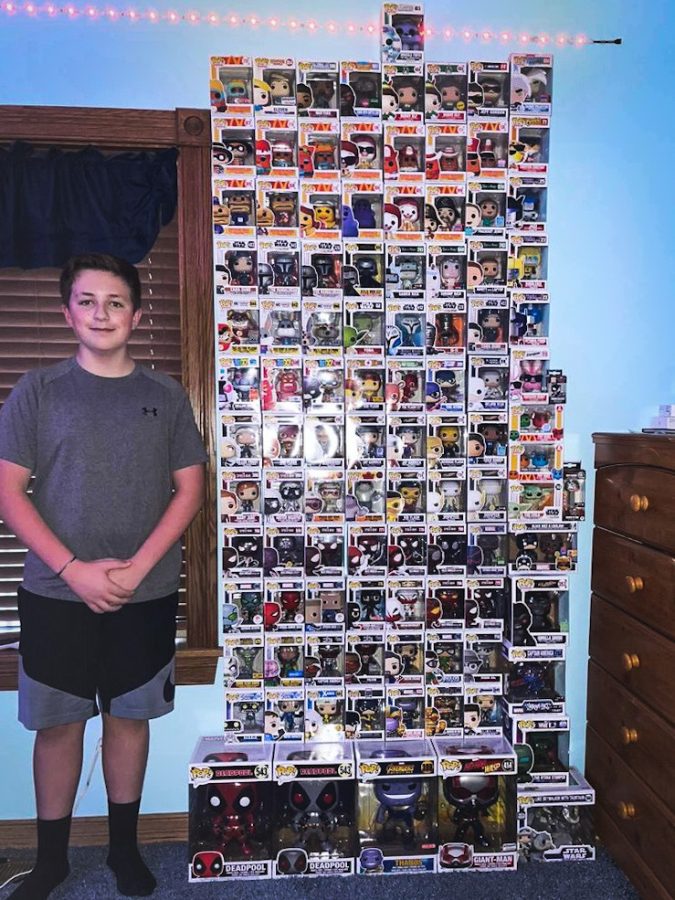 Courtesy of Jace Baronner
For hobbies, some students enjoy having collections. For freshman Jace Baronner, his hobby is collecting Funko Pop figures. 
Baronner started his collection in August of 2020 after seeing a Funko Pop in his brother's room. According to Baronner, he became "hooked" and had to get more. To earn money for the figures, he worked at his father's garage door business over the summer. 
"I'd say I have at least 70 to 80 plus Funko Pops as of right now. I've probably spent around $800, but my entire collection is worth over $1,500," Baronner said. 
Although some may say $800 is a big chunk of change, Baronner was still able to save some money. 
"Every month, I get $5 off at Gamestop, so I get one [Funko Pop] there with my pro membership along with places in the mall," Baronner said. 
Some collectors have prize possessions in their collections. 
"I would say mine [prized possession] is my Danny Phantom one I got a little bit after I started collecting. I woke up really early one morning and went to Target and found it; so that's the one I waited the longest to get," Baronner said. 
In the Funko Pop world, there are series that separate the different figures. Ranging from movies, TV shows, video games and even music artists; there's a pop for just about everything. 
"My favorite ones to collect currently are Spiderman … I just started collecting them. Ever since I was little, I really liked Spiderman, and my cousin who is now out of college introduced me to Marvel as a very little kid. Since there is a new Spiderman movie coming out in December, I started to collect them because it sounded interesting," Baronner said. 
Baronner had previously made more space for his collection before moving them to his dresser. 
"In December, I went to Lowes and got shelves with my dad and installed those. I ran out of room on both of my shelves, so I started on one of my dressers and now I'm on to my second dresser," Baronner said. 
With the price of Funko Pops always changing, it could be used as a way to make profit. Some collectors choose to keep their collections forever and some choose to let go. 
"I plan on keeping them for a good while. I just started high school, so once I'm out of high school, if I think about selling them, they'll be worth a little bit of money. I can have money after school," Baronner said.