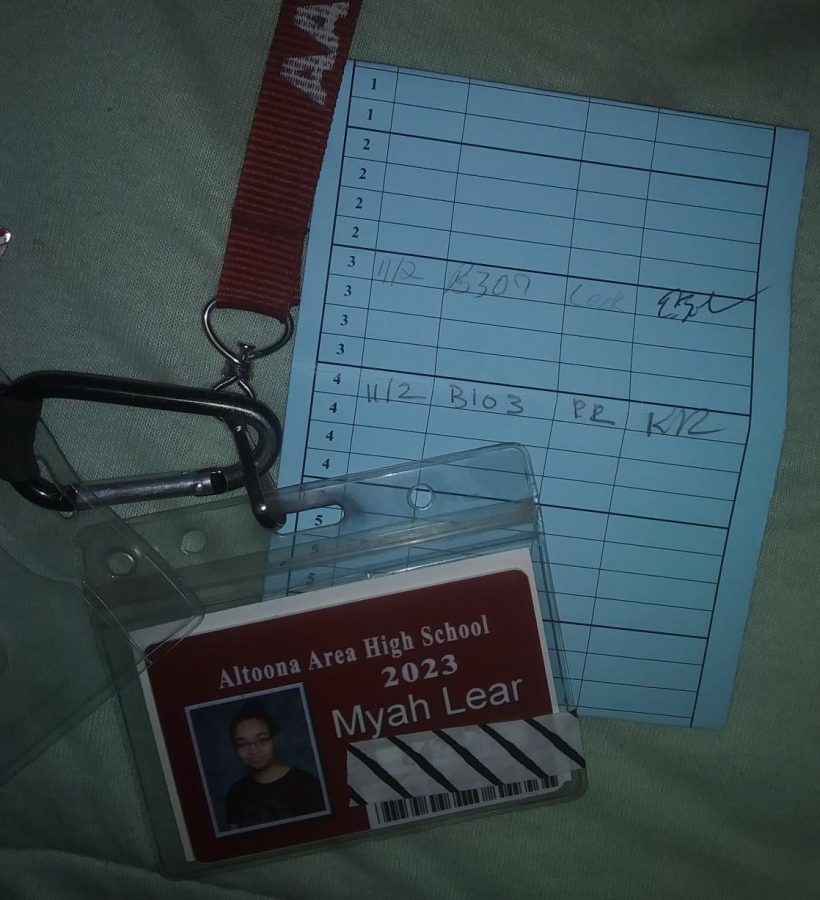 Myah Lear
Over the past few weeks, rules regarding hall passes, IDs and lanyards have started to be enforced. Students are now required to have their hall passes on them when in the halls and are required to have the ID and lanyard on them at all times.
While they may appear new to incoming students, the rules that are now being enforced are not new.
"They appear to be new because there was a delay with student IDs," assistant principal Jason McGinnis said. "Being that we were out for a large portion of last year, not every student was able to get their picture taken; therefore, they couldn't get their ID at the beginning of the school year. We had to wait until we had the opportunity to bring the folks in and take student pictures for the student IDs… then, we just implemented the rules that we've had in place. … These are things that are in place and in our student code of conduct. They have been the same since I've been here."
The rules were delayed being put into place for various reasons.
"What we had run into before, … there was some overlap and some confusion figuring out all the necessary documents and ID's and things that we needed to get everybody," McGinnis said. "…Our focus was 'let's get the kids back here. Let's get them in their seats, let's get them in front of teachers and get them educating face to face.' …Just the nature of getting Provine in here to be able to take everybody's picture and get those IDs produced, so it was just a matter of a delay process."
There are also other reasons why the rules were put in place.
"We look at our IDs as another way to be able to identify what students are in this building," McGinnis said. "We have a number of students that come and go for different reasons; whether it's community service, going to work, our work experience program or kids that are on modified schedules. They're coming in the morning and leaving in the afternoon or coming in the afternoon and not coming in the morning, so we just have a number of kids that come and go for different reasons. Because of that, and we have a building of 2200 kids now with the addition of ninth grade, our goal is to try to come up with some type of way of how do we identify a building of 2200 kids … but it's a way we can identify that they truly are Altoona Area High School students. The one way that we can do that is to ensure that they have their lanyard in your ID."
If a person runs out of hall pass slots for a period and it's an emergency, there is another way that students can get to that place.
"If there's an extreme emergency and a child has to use the bathroom or go somewhere, then our teachers have a packet of passes that they can write out and give a kid to go somewhere; but like I said, a semester is nine weeks long and you get four spots per semester, so it really should not be an issue," McGinnis said. "In those cases where it is an issue we look at it a little bit further. 'Is there a medical situation we aren't aware of?' We might have a conversation with a kid and the parents and ask why are you missing so much class to see if there's kind of a pattern of where they're going and what they're doing but if there is something that the teacher feels that is an emergency, the teacher has the ability to grant that to the kid and just right hand write them a pass that they have, but with 32 spots on a hall pass that really should be good for nine weeks."
There are also hall pass procedures in place during lunch.
"Lunch is seeming to be our heavier traffic so what we are instituting today is to give a copy of a laminated pass to the monitors to give to the student to take to the bathroom with them," McGinnis said. "It is similar to the hall passes that you would see our news writing kids or our MLTV kids or community service kids having. It's just a little pass that is about as big as your ID that you take with you and put it in your lanyard that will let the hall monitor know you're going to the bathroom and that you'll return to lunch. If it's at the end of lunch, theoretically you should be asking the hall monitor to go to the bathroom. That's one area that we need to tighten up a little bit because traffic is heavy."
If a student loses their hall pass, ID or lanyard, they can get a new one.
"Hall passes can be obtained in their appropriate assistant principal's office. We do replacement passes there and then the IDS and lanyards are done through the main office," McGinnis said.
Some students have expressed negative feelings about the new rules that were put in place.
"The hallway regulations are a little bit more harsh than what is really needed," junior Katie Hovan said. "I never heard of any problems before and having these rules enforced seems more restricting than what it should be. It is simply using the restroom, so what is the big deal about that?"
Other students have expressed thinking that the new rules are necessary.
"I do think they are necessary. I just think that without them a lot more kids would just be roaming the halls and messing around and potentially disrupting classes," junior Alison Keirn said.
Some students have said that the regulation doesn't disrupt their schedules.
"I'm still able to go to the bathroom after lunch without using a section of my blue hall pass but some teachers are more tolerant of letting students use the bathroom which may even be more of a problem instead of regulating who walks where in the hallways," Hovan said.