Jazz band hosts holiday concert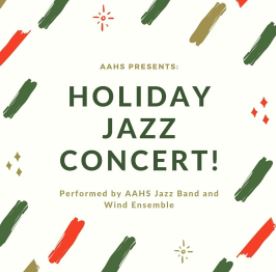 On Dec. 16 from 7-9pm, the jazz band and wind ensemble will take the stage in hopes to spread some holiday cheer. The concert will be held in the auditorium, and they will be playing Christmas classics like "Jingle Bells," "I'll Be Home for Christmas," "Caribbean Christmas" and many more. The holiday concert happens every year and family, friends and fellow classmates are welcomed to go. 
"I like playing with my friends and performing. I just love being part of the jazz band; it's a lot of fun. I enjoy playing in concerts and showing off my talent," senior Lukas Caracciolo said. 
Director Larry Detwiler puts in a great deal of work and effort to make these concerts special as well as help students perform to the best of their abilities.