Boys' basketball begins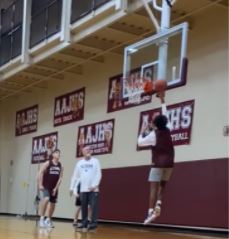 In mid November male students tried out for the boys' basketball team in hopes of making the team. Freshman Markell Herr is thinking positively about his team. 
"I have a lot of faith in our team, and I am looking forward to a great start to the season," Herr said." I wish the best of luck to all the players on both teams."
Due to Covid 19, the 2020 season had limited seating arrangements, and the 2021 season is hoping to have no restrictions.  The team is looking forward to a great head start and hoping to have a spectacular season starting Dec. 14. If you have any questions email Coach Klausman at  [email protected].