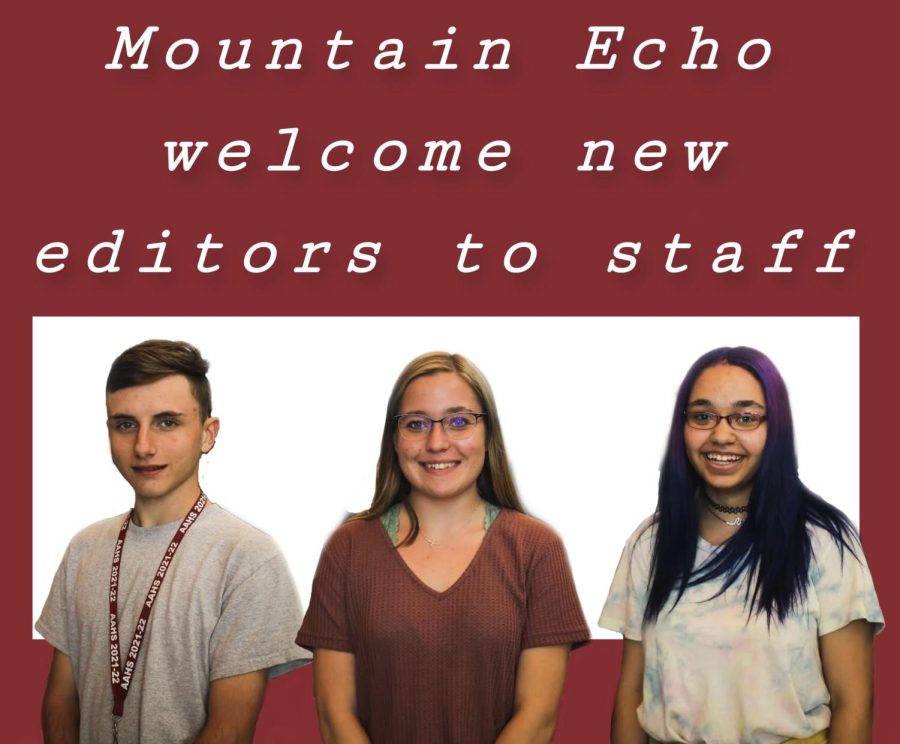 Mountain Echo welcomes new editors to staff
On Nov. 3, the Mountain Echo began an application process for those interested in becoming an editor. The staff now welcomes three new editors, senior Connor George, junior Myah Lear and sophomore Jaidyn Palladini.
The four editor positions for the Mountain Echo are editor in chief, associate editors, business manager and media manager. The editor in chief role is taken by senior Destiny Montgomery. Followed by the associate editors, junior Cassidy Klock and Palladini. Business manager and assistant to the editors is taken by George. The media manager role is taken by Lear.
 All of the new editors have different jobs that keep the news team running while also still having their own stories to write.
 "The purpose of being business manager is to simply manage the finances of the Mountain Echo," George said. 
 "My purpose of being associate editor is being the first one with Cassidy to view the other stories and edit them before they get passed along to Destiny and Mrs. Vanish," Palladini said.
"My new job is media manager, so I still do everything that I did before, it just now includes keeping track of everyone's jobs, watching over the social medias, coming up with social media plans and overseeing the podcast and everything that surrounds it," Lear said.
 According to Lear, helping make the news team run smoothly isn't an easy job. 
 "I plan to make sure that the jobs are getting done and that they're not getting pushed off to the side and making sure that people are putting everything they can into their jobs. I want to make sure that more stuff is being done on the social media side of things so that everybody can see properly what's going on Mountain Echo and what's going on around the school," Lear said. 
Applying to become an editor meant going through a process of filling out an application and submitting it to the adviser and the editors. They then went through the applications and had a meeting with all of the editors to decide who would be welcomed onto the editor team.
 "I applied because I felt like I could be a good leader to the rest of the class, and I have a good idea of what I'm doing. I felt like I would be a good choice for the position," Palladini said.
"It'll definitely help me grow as a person because now I'm not just responsible for myself, but I'm responsible for other people and their work. For me there's definitely a lot of downsides like I've got a lot more work I have to do now, but I've already had plenty of time to do my stuff anyways. I just hope I don't get behind on anything which would then make me fall behind on this which would make me a very irresponsible editor. I hope that I can keep pushing forward and not mess up," George said.