Should Keystones be a graduation requirement?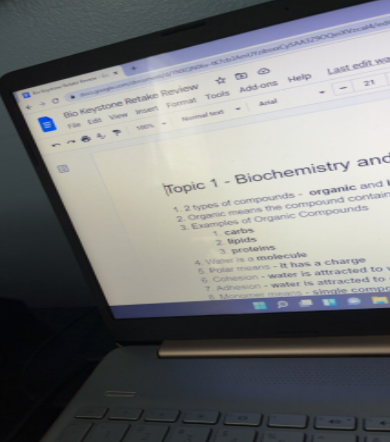 During the school year, students learn material that goes towards the Keystones, standardized tests that are taken towards the end of May to show how well students retained the material during the year. 
While taking the Keystones, students are required to earn a passing score to be considered "good" for graduation. If a student fails the Keystone, they must retake it until a passing score is attained. Retaking Keystones is more stressful than taking them initially because most students don't remember the material or have anything to look over from the previous years. 
As a sophomore here at Altoona, retaking the Keystones was very stressful. I luckily found my material from last year which included a study guide and several papers for me to use while preparing for my retakes. While being a freshman during COVID-19 last school year and having this virus here still during this school year, it's harder to learn what I need compared to learning in person. Most of the time while virtual, I hardly ever paid attention because I wasn't used to being in a virtual environment, but I eventually adjusted to it until a majority of us went back to school. 
My freshman year was very rough. We were virtual, hybrid and full-time, so switching between the three so often wasn't easy. I was quarantined twice last year for being in contact with students who tested positive for COVID-19 and learning virtually and with it getting so much closer to preparing for Keystone testing, I knew I wasn't ready for it. I wondered if I threw everything out but luckily, I found my notebooks, a few papers and a study guide. Studying so much material less than a week before testing was stressful trying to relearn so much material within a matter of days. 
Keystone retakes took place on Jan. 10, 12 and 14, consisting of algebra, biology and literature. Students were sent emails the prior week including a pass to what room they were in and which subject or subjects they must retake. With having such late notice, studying and trying to find material from last year was a challenge. 
As someone who teaches myself, it is something that I try my hardest to do. Learning things from a grade below you are no longer in anymore feels weird. Since I moved up into three honors classes this year, the material was different. It's not much different from academics. The pace is slightly faster, but that doesn't change the fact that it's not as easy as some people think it is to relearn information from past years.  
When I was first sent my emails saying I must retake the Keystones, my immediate thought was "Oh gosh. How am I supposed to pass these again?" Being told less than a week before made my stress shoot up. Where was I supposed to even begin to study without the right material? Most people would think that retaking them wouldn't be that hard but having to do it after a year of school didn't even feel like school, it just wasn't the same. 
Although some students did not have Keystones last school year due to being cyber, they must take them in the spring. Even though I wasn't cyber, I feel as if it will be a lot more challenging to be close to passing than it would be with being virtual.