Blair County based bands to perform at Arts Altoona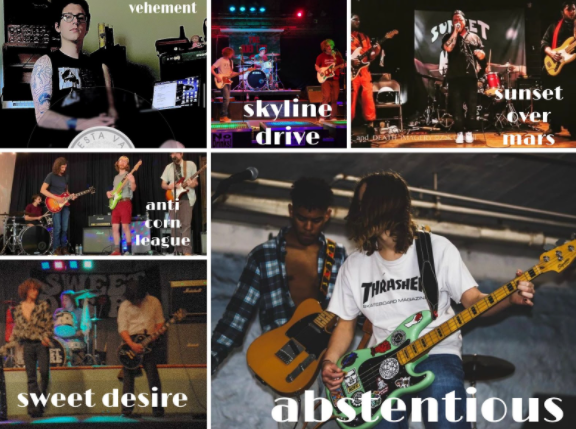 The Arts Altoona Center is set to host its monthly bands in the basement concert on Saturday, Jan. 22 from 6 p.m.-11:30 p.m. These concerts are hosted once a month at the Arts Altoona Center's blank canvas, and gives local bands a chance to perform. 
The tentative lineup for the evening consists of Abstentious, Sweet Desire, Anti Corn League, Skyline Drive, Sunset Over Mars and Vehement. All of these bands have something to offer for everyone to enjoy. From pop punk, alternative and electronic, to pure rock and roll. Two of the bands, Abstentious and Sweet Desire, are made up of students from Altoona, Hollidaysburg and Central High School, all being anywhere from 16-18 years old.
"I love playing Arts Altoona. The energy is so intense when you're up there playing. I love how intimate you can be with the crowd, and it's cool to see how many people we do and don't know are up at the front of the stage cheering for us. It really makes you feel a sense of accomplishment," Hollidaysburg senior Jordan McCauelly said.

Everyone has different passions and dreams to follow. Passions can be anything you want to do in life. Some passions are drawing, singing, dancing, acting and cooking. Passions can start at a young age or an older age or any age. Some passions can be for fun or for anything. They can start out small and go on from that. 
"Music has been a huge part of my life as long as I can remember. When our guitarist Kenton Lewis and I started to have jam sessions together It kind of took off from there. We had a lot of fun with it and had many inspirations, so we knew we wanted it to be bigger. Now we have a singer and a bass player which are amazing and have been having even more fun with it ever since," senior Trey Boore said. 
The bands have performed before in different places. They have performed at some places that can help start new bands and get their names out there for bigger places to see. Arts Altoona isn't a new place for them to play at. 
"We've played at Arts Altoona quite a few times now. It's not the biggest venue but is almost like a basement room with a stage. I think it suits us well for now because it's easier to interact with the audience and what not," Boore said. 
Along with supportive family members, many students go to these shows as well. 
"I like going to the Arts Altoona shows because I like to go and support my friends. I also like listening to all the different bands and seeing what they have to offer. I really like seeing Christian Douglas and Skyline Drive, but obviously Sweet Desire and Abstentious are my favorites," senior Zach McCall said. 
Performing in front of people is different for all people. Some people are scared or excited. All people have different feelings about everything. But some people also have favorite parts about performing.  
"My favorite part about performing is by far the thrill and adrenaline you get from it. Getting up in front of people might seem daunting at first, but once they're clapping for you it's a completely different feeling. Especially with my band members who are some of my closest friends, it never gets old," Boore said. 
After watching Abstentious for the first time, Boore became inspired to create his own. 
"The first time I saw Abstentious was at Root-Hovett Hall in Patton over the summer. It was this really small church and it was packed. There were people sitting on each others laps, standing against the walls and packing into every seat they could. Seeing them play really inspired me to get something of my own going. That's when Sweet Desire really started to become established. Not long after that show we got invited to play with them at Sk-814 and the rest has kinda been history. I love going to see them and play shows with them every chance we get, even if our styles of music are like polar opposites," Boore said.