Homecoming King and Queen Announced
Hang on for a minute...we're trying to find some more stories you might like.
After a long week of games, skits and fun, a king and queen represent the school. Isabella Zavalanski and Matthew Hartman took Homecoming Queen and King this past week at Mansion Park.
Zavalanski and Hartman won overall on skit night, after performing a jail-break dance routine titled Izzy's Inmates.
"We were all dressed up as inmates, and Matt was the parole officer. We were all bored in jail; Matt came across and fell asleep in his chair. I took his keys and I unlocked everyone else's [jail cells]. We were all running around, he got me, and we fell in love," Homecoming Queen Isabella Zavalanski said.
Zavalanski represented  girls' softball while Hartman represented baseball. Zavalanski has been playing with her friends since fourth grade.
"I've been playing since my PonyTail League. Being with the same girls has been a really good bonding experience; practices are like hanging out with friends," Zavalanski said.
The props, costumes, concepts and preparation are all very timely during the weeks leading up to Homecoming.
"The props took the longest. I had help from my mom and the sign shop. Matt helped cut them out on the bandsaw, and I put the names on them with the vinyl," Zavalanski said.
Although the week was stressful, Zavalanski managed to look at the positives with the help of her friends.
"It was very very stressful but also really fun. You get to represent your club, and you get attention for a week. We got to all dress up in the same things and take pictures everyday," Zavalanski said.
Zavalanski was overall shocked to win Homecoming Queen.
"I didn't think I was going to win at all. After they said my name [I was thinking] what the heck. My mouth just dropped," Zavalanski said.
Being in the limelight for a week comes with pros and cons.
"Thank you for voting me in to be your queen. I would just say to be nice to everyone because it's very stressful that week. Judging each other, being rude and accusing people of things is not the way it should be," Zavalanski said.
About the Writer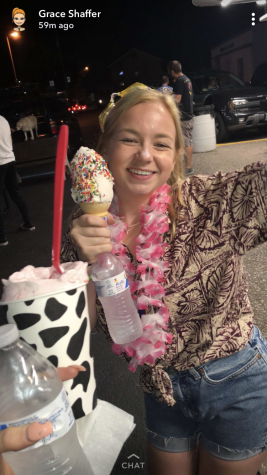 Miranda Wertz, Reporter
I am Miranda, a student at Altoona Area High School. I'm 18 years old and enjoy sunsets, tea and dancing. My favorite style of writing is poems. I aspire...