Chorus holds vocal ensemble auditions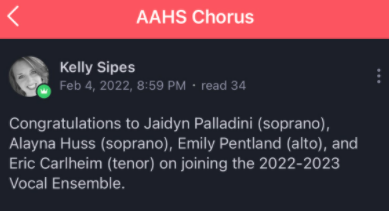 On Jan. 26, chorus teacher Kelly Sipes held vocal ensemble auditions for all chorus students who wanted to participate. 
Sipes sent out all information regarding auditions on Jan. 24 for students to prepare. 
"The audition material was that every student had to perform their vocal part of the alma mater and that's a song that we will eventually sing at sporting events, so that's why I chose that. They had to be able to sing it acapella to demonstrate that they have good intonation," Sipes said. "I listened for vocal projection and the ability to sight-read was very important as well as reading rhythms because as members of the vocal ensemble, we try to more independent musicians and have the ability to learn and perform some more difficult music so those are some skills I was looking for. I also had students perform a piece of their own choosing to demonstrate their vocal abilities and the idea was to show me what they are capable of because the alma mater doesn't really give the opportunity to do that."
There are several qualifications that are needed to be accepted into vocal ensemble by auditioning. 
"What I'm looking for is responsible individuals who I know are going to be good role models and leaders in choir," Sipes said. "They also have to be responsible in learning their music and can work well with a group and independently."
Junior Eric Carlheim was one of the four chorus members selected to be a part of the 2022-2023 Vocal Ensemble. 
"I was extremely happy that I made it in and also shocked because I've never been able to do this stuff when I was younger," Carlheim said. "Years ago, I was always in the shadows because I was afraid of the spotlight. Now that I'm slowly getting there, it feels amazing."
Leading up to auditions, Carlheim made sure that he was ready and fully prepared for what he was getting himself into.

"I make sure to let myself know that whether I make it or not, I tried my best and I won't back down," Carlheim said. "I usually make sure to know what will happen and how I prepare for those depending on what it is. Most of the preparation for me personally is letting myself know what I can do for what I plan to accomplish."
The four students who will be in the vocal ensemble next year include:  Carlheim, junior Jaidyn Palladini, junior Alayana Huss and freshman Emily Pentland