Adidas outdoes themselves with Ultraboost version 21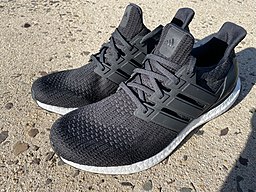 Adidas outdoes themselves with Ultraboost version 21
Adidas released their brand new version of the Ultraboost sneaker on Feb. 4, 2021. This new version was branded the Ultraboost 21. The Ultraboost 21 is a performance-running silhouette made by the German manufacturer Adidas. Although they are pricey coming in at around $180 this sneaker is worth the expense. These sneakers are the most comfortable and appropriate sneaker for everyday wear and when working out. 
The sneakers are designed with stretchy primeknit material which is designed to fit and feel like a sock. The shoe is fitted to stretch around your foot and be snug. This is great for ensuring that the sneakers are not going to lift off the back of the heel, and they work well for me in high intensity sports. The sneakers are lightweight, weighing in at 340g. The design comes in a range of 24 plus colors representing adidas with the continued logo of Ultraboost in mens and womens sizes. One of my favorite qualities of the shoe is the added inch on the bottom which helps with the "boost" aspect allowing you to jump higher and move quicker. 
The shoes are better quality than other brands such as Under Armor, Nike, New Balance and practically any other running or athletic shoe. The shoe provides so much support in the heels and has people going crazy over the comfort. Many celebrities live by this shoe such as Zac Efron, Tom Brad, and Nina Dobrev. This sneaker is easily the best shoe Adidas has produced. 
The Adidas Ultraboost 21 is the best shoe on the market right now, and hopefully the brand continues. The Ultraboost have been a continuous version in the brand and will  become new and improved over the years adding on to the high quality of the product. I live by these shoes and am excited for the newest version of the Ultraboost in years to come.