School needs multiple changes to make environment more modern, comfortable
Hang on for a minute...we're trying to find some more stories you might like.
For tenth graders, the high school is a big change forcing them to adjust to more kids, harder work and new teachers. The classrooms are drastically different compared to the junior high. Most if not all rooms are outdated. Although the school is already taking action to renovate and improve the school, students have ideas for what they want the A building to look like.
Almost all classrooms in the A building have the same ugly green floors and the same boring beige colored cement brick walls. The renovations should include continuing the same flooring from the halls into the classrooms or even carpet like the junior high. Teachers should also have the option to paint their rooms to make the rooms more interesting. Not only would this allow teachers to have more of a connection to their room, but it would also give the rooms a more comfortable atmosphere.
A problem students face every day is the overcrowded cafeteria. Almost every day students wait in line for excessive amounts of time just to get chicken nuggets or a buffalo chicken flatbread. That means rearranging the area to better suit the over crowdedness or organizing the times better is necessary. Also, the amount of space between the tables is little to none, and it's a challenge to try and avoid spilling the contents of a tray on someone's head. A solution to this could be enlarging the eating area or getting new tables that allow students to easily pass in between two tables.
Not to mention, all of the lockers are the same ugly light green color. Where's the school spirit? The lockers should be maroon and/or students should have the option to personalize the outside of their locker.
Last, the classroom technology is out of date. The TVs are old, clunky and boxed shaped. Half of the time during Mountain Lion TV, they don't work. Also the Promethean boards are old and hard to connect to. Almost all of the technology should be upgraded to more modern devices.
Overall, the school has many thing that need upgraded. Hopefully, the school fixes these problems and takes the solutions into consideration for the renovations.
About the Contributor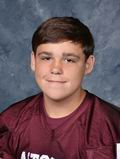 Ben Blackie, Reporter
Ben Blackie's interests include listening to music, watching movies and shows and watching YouTube. Ben also enjoys being involved in school sports and...