Jazz band holds concert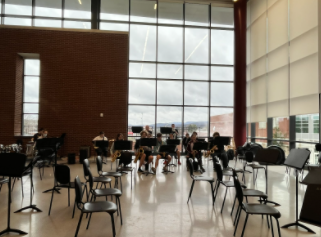 On April 14, the jazz band performed a variety of songs for their concert.
Senior Charlotte Boyle and junior Julia McCauley prepared in their free time.
"I prepared for the concert by working out the difficult sections of our music in my free time so that we could focus on how our parts mesh and blend together during group rehearsal," Boyle said. "Everyone puts in personal effort to make the group sound better."
"I rehearsed in class with the rest of the jazz band; I practiced at home and I took my music to my private lessons to practice difficult rhythms," McCauley said. 
Boyle shares her experience she had playing with the jazz band. 
"Jazz band is such a fun experience because the part you play isn't shared with any member of the ensemble. In my opinion, the music style is much more fun and allows you to add a personal twist to what you play," Boyle said.
McCauley believes that being a part of the jazz band has given her the opportunity to become a better musician. 
"I love playing in jazz band, I play with my band friends," McCauley said. "Playing and practicing my part helps the ensemble sound better, when everyone plays their own part it sounds like an uncompleted song, but what it sounds like when every part is put together is a whole other level and I am excited for the solos. I know the nerves get the best of us sometimes, but I still think that all the hard work that we have been putting in every day will pay off in the end: It always does." 
As for sophomore CJ Romanowicz, he has also been preparing for the upcoming concert.
"We prepared for the concert by playing through the list of songs during our jazz band class period and also took our music folders home to practice as well," Romanowicz said
Romanowicz believes that the concert is worth the wait.  
"I think the concert will be fun and it will be a great show. It is definitely worth getting a ticket and coming out to see the show," Romanowicz said.