Noah Fries plays JV captain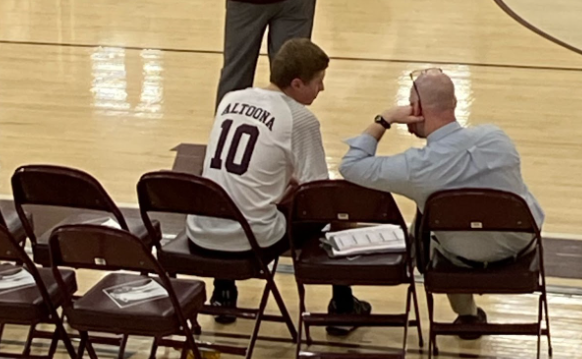 Sophomore Noah Fries is in his second year of being on the volleyball team.
Fries has many roles in volleyball that makes him very important to the team.
"I play outside and libero, and I like libero more because it makes me a more important player and makes me feel like I can actually do something to help the team," Fries said.
Fries is JV captain and sees how hard his team is working and all they're accomplishments this season.
"The season started out bad, but we got better as the season went on," Fries said. "Winning more games than we did last year and JV beating State College." 
Even though Fries feels like he's improving a lot there's many things he feels like he can do better with.
"There is always stuff I can work on like serving better and actually being able to hit the ball whenever I play outside instead of playing libero and keep working on passing better when I play libero," Fries said.
Fries finds pride from beating some of the team's biggest rivals.
"We did really good against State College, Central, and BG. Those are our bigger rivals who we always want to play against better than all the other teams," Fries said.
Playing for other teams has helped with improvement.
"I played for the Horseshoe Volleyball Club. Playing for Horseshoe challenged me by playing against some of the best players in the states around us and pushed me to become a better player. I think I play better on the team for the school. I have a better connection with those guys and they make the game fun, and in volleyball you always play better when you're having fun," Fries said.
Confidence shows how the rest of the season will be for him.
"I think that we are going to keep doing better and then win district championship and then go to states," Fries said.
Many challenges have been faced but Fries feels confident he will strive to do better and do more to help his team.