Long wraps up final track season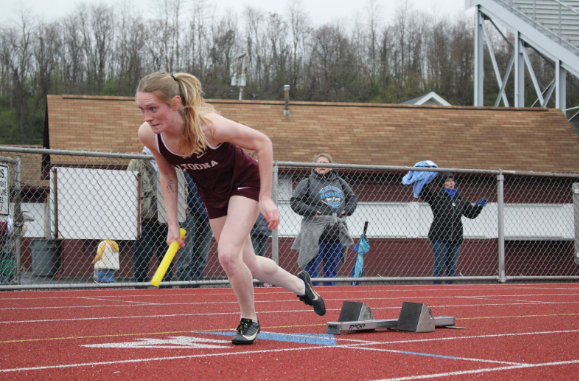 Senior Brooke Long won the state championship from track and field this year; she was also signed as a Division 1 runner for Saint Francis University. With starting track just five years ago, her career has advanced. 
Long stays motivated to run by getting support from her family and teammates. 
"You want people to be proud of you, and your family to be proud of you, and also yourself," Long said.
Coach Damon Luciano had an impact in helping form Long's high school track career.
"He's pretty much taught me a lot of things that I know…definitely taught me a lot," Long said. 
With support from Luciano, other coaches, and family, Long has strived this season. 
"I want to do good so they are all proud of my accomplishments," Long said.
Running track motivated Long to stay active and run track in her future. 
"It's made me work towards goals. I learned that hard work does pay off," Long said. 
With planning to run track at Saint Francis Long was excited to find out she was accepted as a Division 1 runner. 
"I was excited that I can go to a school that has good athletics and academics, and I didn't have to choose a school based on one or the other," Long said. 
Long had hopes of going to Penn State at first, but after looking at the different aspects of Penn State and Saint Francis, she went with Saint Francis. 
"It wasn't my first choice, I would've gone to Penn State in the beginning, but after looking at cost, academics and track, Saint Francis was the most beneficial." Long said
With her mother and aunt both being in the medical field, Long hoped to stray away but not too far away. 
"My mom and aunt are both in the medical field, I guess that persuaded me to wanna do something different than them, so nursing was one that stuck out to me," Long said
Even though she used to dance, Long discovered from running track with her friends that she loved to be outside and focus more on herself.
"…I like the outdoors, I like being outside. Also in track I'm on a relay and by myself so I get to work with other people, it's more of a self improvement sport, so it's nice to depend on yourself more," Long said. 
Having many accomplishments is big for Long, but winning states is her biggest one. 
"I'm most proud of that because it is one of the biggest meets you can go to. You can win a little meet and it's still exciting, but winning in the whole state and how many interviews and pictures you get after is a big eye opener to how big that meet is," Long said. 
With her final high school track season coming to an end, Long is pretty happy about the way things will be ending.