Fox continues as tri-athlete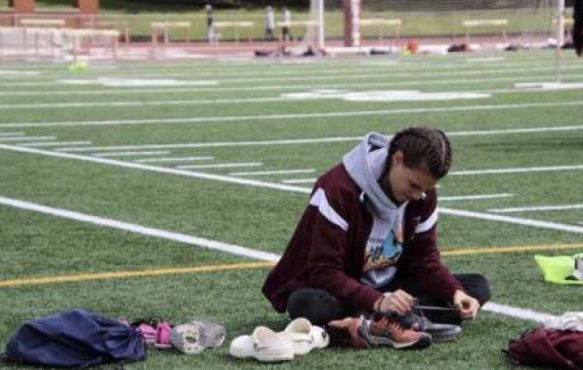 Junior Gwyneth Fox played three school sports throughout her junior year and due to what sports she plays, as one of the seasons ends, another one begins. 
Fox is involved in cross country in the fall, swimming in the winter and distance running for the track team in the spring. She found herself getting more involved in the sports program as the opportunities came to her.
"I started running track in seventh grade. I was just looking for something to do, and I think middle school was a great way to start. My track coach in seventh grade introduced me to cross country, and I started running almost all year round. Then a few of my friends talked about joining the swim team, so I joined because I thought it would be something different from running that I would still like. I liked each of them so much, I just continued to do them throughout highschool." 
The track season for Fox already started, and she has set some season goals for herself as a distance runner.  
"One of my goals for this track season is to break six minutes in the mile. I have been working so hard to achieve this goal and my best time right now is 6.06," Fox said. 
Fox has a nightly routine for the night before a track meet or running event.   
"I usually start by preparing the night before any competition, I like to focus on getting enough sleep, and staying hydrated, as well as making sure I eat a good dinner. Then the morning of the competition I always eat a good breakfast and listen to music to help me keep calm," Fox said. 
Fox has some coaches by her side encouraging her to complete her goals and get through harder times throughout the season. 
"My coaches definitely have impacted the way I compete. They have all given me tips and advice on how to improve my form, as well as support me if I have a bad race. They've always got my back," Fox said. 
Fox's brother is on the track team and runs distance alongside her. He not only sees her as a role model at home, but also on the track. 
"I like having my sister on the team. I think that she is very hardworking, and sets a good example for the underclassmen. She demonstrates good leadership skills and encourages others to do their best," sophomore Chris Fox said. 
Although Fox likes being involved in all of these sports, she has a favorite out of the three. 
"I would say that swimming is my favorite sport because it comes a lot more naturally to me and it's something different from running. I also like cross country a lot too. It's hard to choose," Fox said.