Alumni cheerleader returns as assistant coach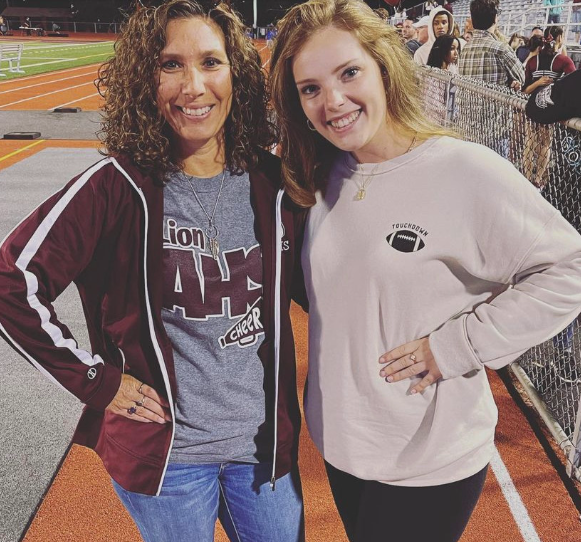 After last year's cheerleading coach retired and coach Autumn Barry-Kyle (BK) stepped up as head coach, she was in need of an assistant coach. After many years of her distance cheering for Altoona, alumni Kalyn Sarah Sines raised to the challenge. 
Altoona wasn't just the only place that Sines cheered, she spent her time at several gyms throughout her high school and college years.
"I cheered for Cheer Factor (all star team) for three years. I was a cheerleader at Altoona for two years and Bellwood-Antis for two. In college I also cheered for Saint Francis for a year," Sines said.
Sines graduated high school in 2017 and college in 2021. When she graduated from college, she was influenced by a previous coach of hers to take on the role as assistant coach.
"I wanted to make an impact on someone's life the same way that BK did for me when she was my coach. I also felt like I had been lacking something in my life since I stopped cheering in college and cheer was the only change," Sines said.
Inspiring the team has always been her top priority and allows the girls to share with the team. 
"I try to be honest with them and allow them to share their ideas or concerns. I feel that  including the team in your decisions, when possible, helps them feel more empowered and inspired to speak up in other situations outside of cheer," Sines said.
With the sudden change in coaches, Sines still believes that the squad was very successful in the last season.
"I feel that despite all of the changes in previous years with staff changes, last year's team did amazing. Girls stepped up when they needed to in order to make the team successful, and I could not ask for more. I think that the coaching staff has made small changes that we believe will set the team up for success in the upcoming year. With these changes and positive attitudes within the team, this year will be just as great, if not better," Sines said. 
The head coach of the cheer squad enjoys the new addition to the team and feels that she is very committed. 
"Coach Kalyn has been a great addition to the coaching staff. Her enthusiasm is infectious, and she is very dedicated to the program," Barry-Kyle said. 
Coming to the realization that she is now a coach and not on the sidelines is an odd experience according to Sines, but she is proud of her team and finds it very entertaining.
"It's very strange because those were my favorite memories, and I would do anything to have one more night under those lights. However, I feel a different sense of pride because I get to be proud of the group of girls cheering in front of me while I sit back and watch them," Sines said.