Meyers starts first year of school baseball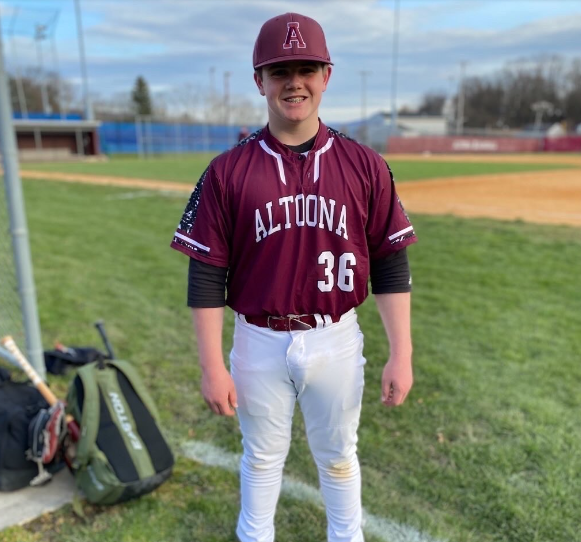 Freshman Logan Meyers recently started his first season of high school baseball. According to Meyers, he has been playing baseball since he could first walk.
Meyers participated, in past years, at the junior high as the catcher. Meyers continues to play as a catcher for Altoona's junior varsity team.
The season started at the beginning of spring and there have been many games since.
"Logan is a good catcher. His frame jobs are some of the best I've seen. While Connor and Logan alternate the position, I wouldn't mind either catchers," sophomore Riley Wilson said. 
"My season is going good so far, and the team and I are working every practice to get better," Meyers said.
I asked Meyers why he wears the number 10 he responded,"I wear the number 10 when I can because I love the number 10, it's my lucky number," Meyers said.
With other students transitioning from junior high to high school baseball some students might expect challenges along the way, but it was not a very large change for Meyers.
"The transition isn't much different, I just keep working and getting better everyday," Meyers said.
"Some challenges I face in high school baseball rather than junior high baseball is you have to be more prepared, you have to prioritize school work, athletics and your time management better," Meyers said.
I asked Meyers which famous baseball player and a player on his team he looks up to and he responded,
"I look up to Yadier Molina who is a catcher for the St. Louis Cardinals, and an older player I look up to on my school's baseball team is Sean Bettwy," Meyers said.
The junior varsity has a 3-5 record so far with only winning a few games so far.They have faced many teams throughout central Pennsylvania.
"My favorite game I've played so far was a game between Chambersburg and Altoona. We ended up winning that game, and it was a battle the whole game…" Meyers said.
"My favorite part about high school baseball is the competition, and getting better every day,"Meyers said.
With baseball requiring equipment, players have to spend money on certain equipment they need to play and baseball has brands to choose from.
"My favorite brands are Rawlings, Wilson, Louisville Slugger, All Star and Evoshield," Meyers said.
"My baseball season for AAHS baseball finishes in May, but then I have summer baseball shortly after to keep my occupied throughout the summer," Meyers said.