Fleck begins volleyball career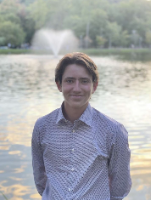 For 14 years, senior Justin Fleck, played baseball, but his senior year, he switched to play volleyball. 
"My friend Dominic McMasters got me interested in it. He asked me to come to open gyms and see if I liked it, and I enjoyed it so I decided to play," Fleck said. 
Fleck wishes he had started playing at a younger age.
"I wish I started playing when I was younger so now I'd be a lot better than I am now and would understand the game more," Fleck said. 
His teammates have enjoyed having him on the team.
"He brings a comedic effect to the team and I have a good time with him being his warm up partner. The beginning of games wouldn't be the same without him," senior Dominic McMasters said. 
Senior Alex Ferry thinks having Fleck on the team has been a great experience.
"He is always energetic and always cheering on the team from the sideline. It's always a fun experience with Justin," Ferry said. 
Coach John Saboe says he's happy to work with people like Fleck.
"He's easy to work with. He's enjoying the game and understands the game. We're always happy to work with people like that," Saboe said
Fleck has enjoyed being on the team this year, and hopes to continue playing whenever he goes to college. 
"I plan on attending Penn State Altoona for college and am looking into volleyball as something to do, but it's still up in the air," Fleck said.