Interscholastic reading club places third in competition
On Tuesday Nov. 13 the reading club participated in the fall Interscholastic Reading Competition at Bellwood High School. The reading club chose the team name, "Reading Detectives" as their title when contending against the other schools.
For sophomores, this was their first time participating in a high school reading competition.
"I enjoyed the reading competition a lot. It was a nice experience to have, and I made some good memories," sophomore Rebecca Dieter said.
Although Dieter was a member of the reading club in ninth grade, she enjoyed the high school experience more.
"Ninth grade was okay, but this year was more fun. I think ninth grade was not as fun because none of us knew what we were getting into. It was a whole new experience, and we were all nervous. This year we were more confident on the books we read and were less nervous," Dieter said.
Sophomore Mykenzie Pine is also a member of the reading club and even did it in ninth grade as well. Pine, similar to her friend Dieter, enjoyed the fall reading competition and even wishes to continue being a part of the club in future years.
"I enjoyed participating in this year's reading competition very much. Those who are in the group are all very fond of each other and are able to make the experience better when answering the questions about our books. I am going to participate in reading competition next year. I enjoyed the time that I have been in it already," Pine said.
The Reading Detectives completed two rounds in which they were asked specific questions about the books they chose to read from a list of Interscholastic requirements. Out of both these rounds, the reading club earned 32 points, placing them third in the high school competition.
"I joined this club in my tenth grade year, so no, this is not my first time competing. I competed last year in both the fall and spring competition. It was pretty much the same as it was last year–we got about the same score, but I think we have some more people this year," junior Kaila Hohman said.
Some of the novels the members read included Burning Up, The Death of A Salesman, The Crucible, Among the Hidden, Counting by 7s, Ellen Foster and Enter Three Witches, among other titles.
"We have placed third in every competition in the fall–we usually do. I'm not complaining though, at least we placed. Oddly, in the spring, we only placed once and that was second place. We hope we will place this year in the spring competition," reading club adviser Michele Janosik said.
In the spring competition, the reading club will meet again to compete against other schools. Different books will be distributed and read.
"We are always happy to welcome new members. Anyone can still join!" Janosik said.
The reading club is always looking for new members to participate in both the fall and spring competitions. Contact Janosik at [email protected] or visit room B304 for more information.
About the Contributor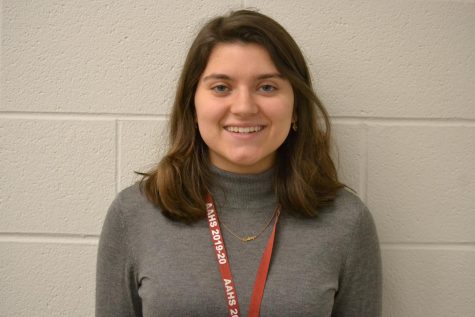 Sydney Wilfong, Associate Editor
I'm Sydney Wilfong, a junior at AAHS. I'm a part of the band as a tenor saxophone player. On the days I have time, I enjoy writing, reading, and watching...