Homecoming preparations begin
Two candidates discuss candidate requirements
Homecoming candidates have started preparing for Homecoming week Sept. 26 and through Sept. 30, with the dance on Thursday the 29.
Behind-the-scenes work goes into running when attempting to become a Homecoming candidate. To become a Homecoming candidate, a student has to be a part of the club or sport they choose to represent.
"I decided to run for Homecoming because I thought it would be a fun way to showcase softball to the school," senior Gracie Wilt said.
Each Homecoming candidate picks a theme for their team to go with their skit during game night.
"My theme is 'Gracie's Ghostbusters'. I came up with it because I wanted to make my theme around some sort of movie and thought Ghostbusters would be a funny one to do," Wilt said.
Both Homecoming candidates and their teams have requirements before they attend games night.
"Before games night, I have to make my team's shirts and make sure my team is ready to win," Wilt said.
After a candidate is approved to run, they have to choose who's going to be a part of their teams.
"My team is composed of some of my closest friends. It wasn't hard to pick them to be on my team. I wouldn't want to have to go through the craziness of Homecoming with anyone else," Wilt said.
Many students don't know that running for Homecoming is a multi-step process that can take weeks to prepare for.
"I started planning about a month ago. At the very beginning, it was just brainstorming what I wanted my theme and team to look like. There is a bunch of planning that goes into running for Homecoming: building my team, designing t-shirts, etc," Wilt said.
Students choose to become a Homecoming candidate for an  activity to do with their friends their last year of high school.
"The most important part about running for Homecoming isn't winning. The most important part for me is making memories and having fun with some of my best friends in our last year of high school," Wilt said.
Homecoming candidates have certain requirements they have to meet to run like making posters and coming up with a skit.
"The process after deciding to run for Homecoming is hectic. I lost some of the original people I wanted to be on my team to other teams, but I am confident that the team I have now will lead me to success. It is also very exciting. It is exhilarating being able to design an entire team and skit with friends," Wilt said.
Some students choose to run for Homecoming so their club or sport has someone to represent it. 
"At first it was because no one wanted to or could, but at this point I'm really invested in the preparations," senior Jaden McNally said. 
Several Homecoming candidates chose their team as a play on their names or the club or sport they are running for. 
"I think my theme is going to be 'monsters' because it goes with my last name McNally and 'monsters' are often just people who are misunderstood and outcast because of their looks, so I wanted to prove that even the outcasts can make something of themselves," McNally said.
Not everyone knows all of the planning that goes into preparing for games night.
"I need to make a sash, get forms turned in, prepare a skit with my team members and help my team members prepare for theme week and other preparations," McNally said.
Students in grades nine through 12 can be a part of a Homecoming candidate's team if they choose.
"At the student council  meeting the advisers and I mentioned I needed team members, and so I made sure people had my email and the emails started rolling in. I love how many people were interested in helping me out," McNally said. 
To some students winning is not the best part of running for Homecoming Royal. 
"The most important thing is honestly just bringing a new face to Homecoming and showing people that compassion for others is overall the best trait someone could have," McNally said.
The winning Homecoming Royal will have responsibilities to fulfill that come with winning the title. 
If I win, "I'll continue to serve my community in the student council and make a positive example out of myself," McNally said.
Not all students know what the process is after a candidate decides to run for Homecoming. 
"Honestly it's a lot of paperwork, communicating with my team, and trying to find out what I'm going to need for coronation and Homecoming. It's a big process, but I know my team will have my back," McNally said.
Leave a Comment
About the Contributor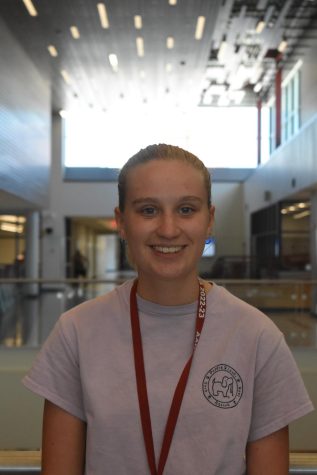 Maddie Cowfer, Reporter


Hi, my name is Maddie Cowfer. I am a senior, and I write for the Mountain Echo. I first started writing my freshmen year for Livewire. One of my favorite...