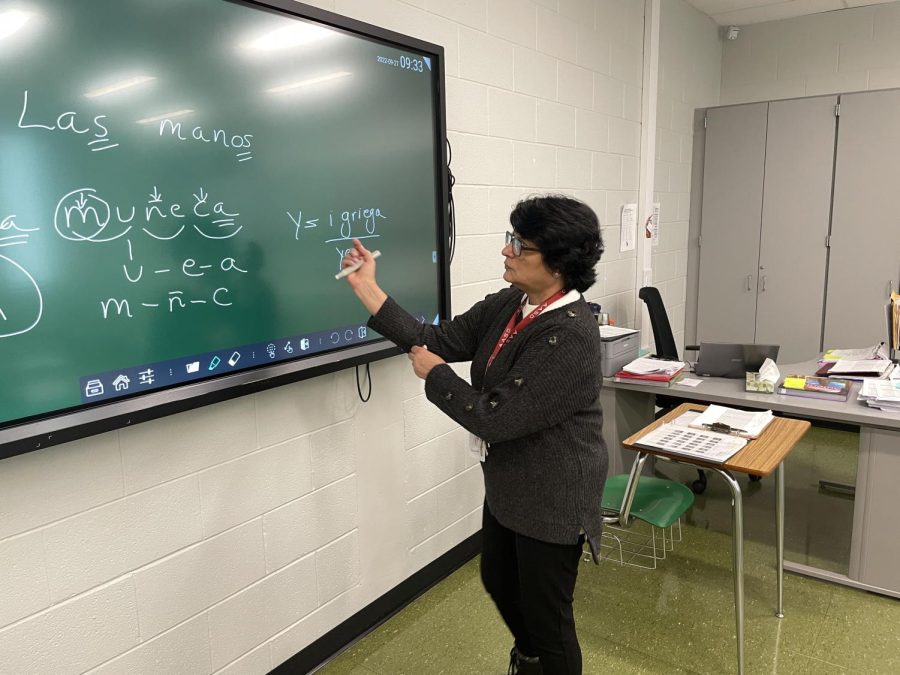 Marianela Davis
Q: What is the best advice you have been given about teaching?
A: Learn from your mistakes and always be open-minded.
Q: What made you want to teach at AAHS?
A: I was writing my dissertation about speaking in Spanish, and I finished my dissertation this year. Hopefully, I will graduate in December with a D. Ed in Education, Curriculum and Instruction. My topic is related to how to teach Spanish, focusing on speaking. AAHS caught my attention because I haven't taught in high school. Well, I taught in private schools but not in public high schools. My dissertation is about teaching Spanish in public schools. I also taught in college for many years at Penn State Altoona.
Q: When was the moment you realized you wanted to be a teacher?
A: I was studying English, and one time I didn't understand something. I asked this excellent student, a straight A student, for help, and she couldn't explain the sentence to me. And I was wondering how she is so good at English and can't explain to me this sentence. That's when something clicked to me. There must be some people that are not good at teaching while others are. I found another person who could explain the same sentence to me. Since high school, I realized I was very good at explaining English, French and Spanish to my classmates, and I thought I could teach.
Q: What is your favorite part of teaching so far? 
A: To be with the students and to enjoy seeing them learning every day; they bring much joy to me.
Q: Who inspired you to become a teacher?
A: My mother loves teaching, but she was never a teacher formally. She taught the Bible in Sunday school. My great-grandma was a teacher too. My father was a teacher, but I didn't think I would be a teacher because of them. It's just something I discovered. I discovered this through good and bad teachers. I had teachers that shouldn't have been teaching, and I had teachers that inspired me.
Q: What do you enjoy doing in your free time?
A: I love cooking. I love to surprise my husband and surprise myself with something new and practical. I believe that you are what you eat, so you must watch what you eat daily. I tried to eat at home most of the time, but once in a while, we like to eat out.
Q: What college did you attend?
A: The University of Costa Rica.
Q: Why did you choose to teach the subject that you teach?
A: I was learning English. I exchanged one hour of English for one hour of Spanish with American missionaries in Costa Rica at the church I was attending. I was very interested in how I could help them to learn my language. When you study your language, you discover things you never thought you would understand. You believe you know the language just because you grew up speaking it, but it is not the way it is. When I started studying Spanish, I discovered my language, life and culture, which was wonderful. I wanted to help other people to learn that too.
Q: As a teacher at a new school, do you feel that sense of nervousness you once felt as a student?
A: Yes: A new environment, colleagues and rules. Initially, it makes you a bit nervous, but I try to stay positive.
Q: Is there something else you want to do during your teaching career, like coaching a sport or running a club? 
A: Yes: Later on, I would like to start a conversation group, as I believe the best way to learn a language is to use it in conversation.