Student council brings back senior citizen dance
On Nov. 10, student council is set to host the first senior citizen dance in over three years. It will take place in the field house where both of the jazz bands will be performing. 
Student council adviser Kimberly Shope is the only current student council adviser who has organized a senior dance. 
"It's different in the sense that a lot of our students have never experienced it or even been in the building when we had one. It's kind of a new thing," Shope said. 
Shope and the other advisers have been planning the event.
"First of all, we need to get permission to make sure the field house is available and make sure the music groups are available. It's a matter of can everybody do it on this date," Shope said.
Shope is currently planning the food for the dance.
"I communicate with the cafeteria since they are the ones that do the food for us. We put out a nice display. We have miniature finger sandwiches, fruit trays, vegetable trays, chips, pretzels and cookies," Shope said 
Student council members are set to help decorate for the event. 
"The afternoon of the dance, some of our students will go over, and we will set up tables and chairs. The tables will get a tablecloth, and on the tables, we have glass vases with fall flowers, but we are not using balloons this year because balloons are hard to get. We always put on the tables Styrofoam cups of mints and things that they can enjoy throughout the evening. In the hallways, we will have tables set up because we are going to provide refreshments. We usually decorate the windows a little bit," Shope said. 
Student council members are also set to attend the event to provide assistance and company.
"Students will meet them, greet them and get them coffee and water if they need assistance getting refreshments. Some students will sit and chat while some will dance. It's just kind of a nice evening of intergenerational activities, and it's free of charge. It's something a lot of the seniors look forward to over the years," Shope said. 
The event is set to begin at 5 p.m. 
"Our high school jazz bands will set up in the gym, and they will provide the music. A lot of the music will be of the era of the older folks, but they'll have a variety.  At 5:30 the music will start, and they'll play until 8 p.m. Some of the senior citizens will dance, and they'll come all dolled up in dress clothes and things," Shope said. 
Shope and the rest of the student council enjoy hosting this event.
"Part of our mission is to give students experiences and also relate to the community. We don't just support our students and our district, we also support the community, " Shope said. 
Larry Detwiler is the band instructor, and he is in charge of the jazz bands' involvement with the dance.
"We play for two and a half hours, and it's both jazz bands. Top jazz band will play for about an hour, the second band will play for a half hour, and the other jazz band can come back and play for about an hour again. The bottom band has 11 or 12 songs, and the top band has about 36 songs on their list," Detwiler said. 
The bands are set to play a variety of music.
"What we try to do is try to fix everything from older music to more modern music. We'll put in some polkas, and we just try to get all different styles, so that we get something for everybody," Detwiler said.
The jazz band hasn't always been the main entertainment provider.
"At one point they hired a band to come in and do it. What we did was the band that was hired played the first set and the last set, and the jazz band played a short middle set. The feedback from a lot of people was we'd rather just have the kids playing it," Detwiler said.
According to Detwiler, the preparations for this event are time consuming.
"Normally you come back in, and it's like 'well we have to have six songs ready for Christmas.'I'm now going, 'okay, we have to have either a half hour or two hours ready by the beginning of November," Detwiler said.
This is junior Lily Adams' first time being a part of the senior citizen dance.
"We haven't had them for a few years because of COVID-19, so I wasn't able to participate prior to this year," Adams said. 
The expected turnout is between 250 and 800 citizens based on prior years.
Leave a Comment
About the Contributor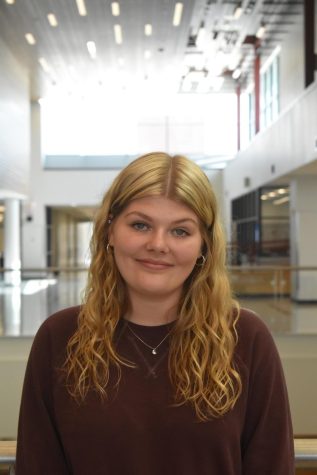 Stayley Drenning, Reporter
Hey! I'm Stayley Drenning, and I am on the AAHS Mountain Echo staff. I've enjoyed writing for as long as I can remember, and I am so excited that I can...