Jesi's Christmas begins collections for 2022
From Nov. 1 until Dec. 12, AAHS will be collecting donations for Jesi's Christmas. Jesi's Christmas is a fundraiser set up by the Reilly family in memory of Jessalyn Reilly, a student of AAHS who lost her life at the age of 18 in a car accident. 
Girl's League adviser Megan Yingling and the club are assisting the efforts by collecting donations for four different causes.  
"Girl's League is helping with Jesi's Christmas by collecting items for the homeless shelter, humane society, toiletries and toys for boys and girls," Yingling said.

Yingling has reached out to teachers in the building for help.

"The school has been a huge help," Yingling said. "Mr. Sipes and his broadcasting students helped by making an edit for MLTV. Mrs. Lucas is helping by collecting donations in the school library. Mrs. Mitchell reached out to me about adding an advertisement to the TVs in her hallway so that teachers and students could see donation ideas."
Reilly's mother Karen Reilly started Jesi's Christmas after the passing of J. Reilly on Jan. 11, 2008.
"The first holiday after her accident was Valentine's Day, and I had already bought her a Valentine," K. Reilly said. "I remember vividly the void I felt not being able to give her that valentine and started wondering how am I going to fill this void in our lives. Christmas is always a magical time of year for the Reilly family, and I knew I would have to do something for Jesi every year in her memory. She was so energetic, friendly, full of love and life and that just couldn't be forgotten."
K. Reilly starting the tradition has helped not only the community, but it has kept her daughter's memory alive.
"
We have been able to help so many families, nursing homes, foster families, local agencies, day cares, the homeless and do much more."
— K. Reilly
"A family that frequents my workplace had lost their home and all their belongings in a fire that year," K. Reilly said. "I desperately wanted to help them, and I thought it would be nice to take the money I would have spent on Jesi that year and help them with gift cards, essentials, a Christmas tree, etc. I'll never forget how happy and grateful they were. And especially how amazing I felt doing it. So from that year on, I decided to do the same thing for others in need in our community. I then started "A Circle of Giving" called Jesi's Christmas where her former friends, teachers and family members come together once a year to help those in need.We talk about Jesi and share pictures and memories. It has been the best medicine for a grieving family. We have been able to help so many families, nursing homes, foster families, local agencies, day cares, the homeless and do much more. Her smile was contagious, and we are providing smiles in her memory. The feedback has been incredible, and the thank you letters that we have received are the reason we continue year after year."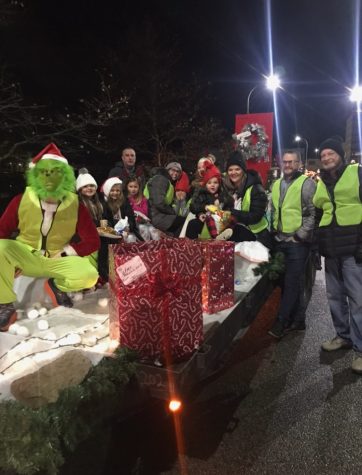 According to K. Reilly, it is touching to be told you made a difference in someone's life. 
"As long as I am alive, her memory and legacy of kindness and love will carry on. It is our hope that it will teach others, especially children to be kind and help those in need. We have grown every year as many business and community members have jumped on board. We have involved our grandchildren teaching them the true meaning of Christmas and in turn they are getting to know the aunt they never had a chance to meet but know so much about. When you have more than you need, you give."
Junior Aaliyah McGee and sophomore Addisen McDonald have been collecting items alongside the Girl's League.

"I've helped by donating and helping spread the word for Jesi's Christmas," McGee said. "It's honestly so amazing to see what people do for others."
"I've helped by donating and helping spread the word for Jesi's Christmas. I am in Girl's League, so we're collecting for all of it. It's honestly so amazing."
McGee encourages people to give back, especially around this time of year.
"It just helps bring everyone's mood up," McGee said. "I love that we are continuing to say Jesi's name because she might be gone, but she's never forgotten."
According to McDonald, it is a great way to give back to people in need, especially in the area.
"The clubs do a lot of fundraisers and donations for the shelters in the community, and I think it's amazing that the school gives students a part in that and exposes them to the rest of the community," McDonald said. 
Leave a Comment
About the Contributor
Jaidyn Palladini, Associate Editor
Hello, I'm Jaidyn, and I'm a junior at AAHS. This is my second year writing for the Mountain Echo. This is also my second year as an Associate Editor....