First senior citizen dance held after Covid hiatus
The student council hosted the first senior citizen's dance since COVID-19 in the fieldhouse on Nov. 10. The band was the music entertainment for the evening. 
According to student council adviser Kimberly Shope, the dance went very well overall because  there were plenty of things to offer and the music was great.
"The people that were there really enjoyed themselves, and I thought the students did a really great job and everybody did what they needed to do," Shope said.
Organizers were unsure of how many would attend after the break from scheduling the dance for multiple years. 
"I'm guessing there were around 60 to 70 seniors. We set up enough for probably two and a half times that many. There were times that we had eight to nine hundred and then we've had years where it was maybe 300," Shope said. 
According to Shope, there were multiple factors that led to the lower attendance.
"We contacted all of the right people, but you can't make people come. I think the word will get out that this occurred and somehow people missed it, and we will end up doing it again. You have got to start somewhere," Shope said. 
There was a lot of positive feedback and reactions from the seniors, according to Shope. 
"I wish I knew the name of the lady that took the microphone. She really enjoyed the music and she enjoyed the interactions she had with the students that were there," Shope said. 
Some of the senior citizens who attended have also attended the dance in past years.
"There were several that said they were glad we were back, so you knew that they had been to one of our dances before," Shope said. 
Shope considered more ways to reach out and alert the community about the dance through inviting more clubs to participate and getting in contact with the radio and tv. 
"I contacted all of the [nursing] homes in the area's activity directors. Often the home in the past was able to bring a van of able-bodied ones. I contacted The Towers so that the managers could notify the seniors. I also contacted Blair Senior Services and the Greystones," Shope said. 
Shope encourages students to sign up and help with future events.
"Of the ones [students] that came, no one complained about having to clean up a little bit. I know in the past when we used to do these students loved to come," Shope said.
Sophomore Kallen Plunket was one of the student council members who helped at the dance. 
"I figured that it would be a good thing to do for the seniors, student council and myself," Plunket said.
According to Plunket, he enjoyed helping with the dance because he was able to get a better understanding of how things were when the seniors were in high school.
"I helped the senior citizens out by getting them drinks, and I also walked around and got to talk to them. By doing so, I was able to communicate with them, and they had interesting stories. One that I particularly remember was about going skating and a bunch of different things about what they were doing at our age," Plunket said.
Earlier in the day, Plunket helped decorate the fieldhouse with seasonal colors. 
"We set up tables and we put out streamers. We also had flowers and little bowls of candy on each of the tables," Plunket said.
Plunket plans on helping with any future dance that would take place.
"It was a fun experience, and I enjoyed talking to the seniors because I feel like it was something that benefitted me for my future and it gave both the senior citizens and myself something to do. I feel that it definitely gave me a feel of what they used to do when they were our age," Plunket said. 
John Conte was one of the seniors who attended the dance.
"We've been here a couple of times and every time we've enjoyed ourselves. We've been here  when there were a lot more people, but this is about the sixth or seventh time we've been here," Conte said.
Conte and his wife had a good time at the dance. They were unable to see some of their friends due to COVID-19, so this was a way for them to reconnect. 
"We met people that we knew and were sitting with them. It's a great thing for people to come out and enjoy themselves. Once things simmer down a little bit more, I think more people will end up coming out," Conte said.
Conte was pleased to be interviewed.
"I am very familiar with the Mountain Echo. I have the original Mountain Echo from when I graduated which was the final edition of the class of 1954," Conte said.
Student council is hoping to host more dances in the near future.
Leave a Comment
About the Contributor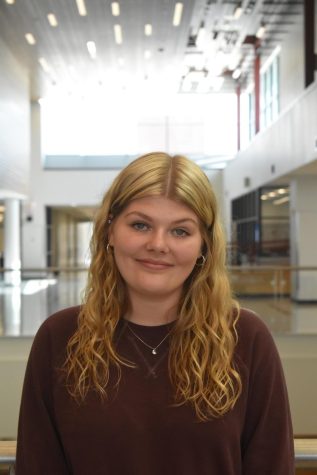 Stayley Drenning, Reporter
Hey! I'm Stayley Drenning, and I am on the AAHS Mountain Echo staff. I've enjoyed writing for as long as I can remember, and I am so excited that I can...