SAT dates made official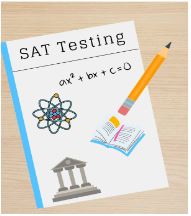 As SATs are about to take place, people rush to sign up. The SAT dates have now been made official. The official dates for the S.A.Ts are: Dec. 3, March 11, May 6 and June 3. It is required to sign up a month before the test is taken, and to do everything listed on the collegeboard.org website. 
"The SATs are a good indicator of what knowledge you retained from school," counselor Julie Yahner said.
Before somebody decides to take the S.A.Ts, there is some information they must know. According to the College Board, a SAT test is a multiple choice test that requires papers, a pencil and knowledge. The purpose of a SAT is to determine how ready a student is for further education, like college. The lowest passing score of a SAT is 400/1600 points. 
Leave a Comment