Performers get ready for 42nd street auditions
Auditions for the spring musical, 42nd Street, are coming up on Dec. 20 at 2:45 p.m.. This musical is tap oriented, and a variety of students are trying out. This year, the tap workshop, run by Michele Dugan, has been an event some students are attending due to the musical being tap oriented. Students have been preparing since the end of the last musical, "Puffs."  
The "42nd Street" musical is something the drama club wouldn't normally perform according to drama adviser Ben Cossiter, but with the desire to try something new, he carefully selected something that is more of a classic. 
"We try to do different styles of musicals each year. For the past couple of years, we have performed Disney (Newsies) and Charlie Brown, so we wanted to do a more traditional, classic show. This will also allow us to feature our dancers even more, as we continue the work we did last year to train our performers in dance," Cossitor said. 
The drama club hopes to top themselves again this year. With the cast working every Saturday at the tap workshop, they have started to practice and prepare the audition that will be used. 
"We've learned a lot of the things we will need for the audition, and now, I know what I'm doing. Instead if I wouldn't have gone to the tap workshops, I wouldn't know anything," sophomore Emily Pentland said. 
Last year's musical, "Newsies", had an impact on some of the students auditioning for 42nd Street. 
"I went to "Newsies" last year…I watched it, and it was amazing. I just really thought that was something I should be doing and be a part of," sophomore Evan Mcguire said. 
"Last year in "Newsies" we did a tap number, and that's what really started my love, if you will, for tap. It's something I really enjoy, and I feel like it's something I want to keep doing," junior Ethan Eisenhart said. 
Eisenhart has concerns about the students who never attend the tap workshops. 
"I feel like some of the people that haven't gone to the tap workshops on Saturdays, won't be able to learn the tap combo for the audition that quick. You only get like 30 minutes to learn it and practice it two or three times. Some kids won't be prepared for that," Eisenhart said.
With hopes to get a role that compliments his voice and abilities, Mcguire has been preparing. 
"I go to the tap workshops every week, and I've picked out specific songs that will highlight my voice," Mcguire said. 
Leave a Comment
About the Contributor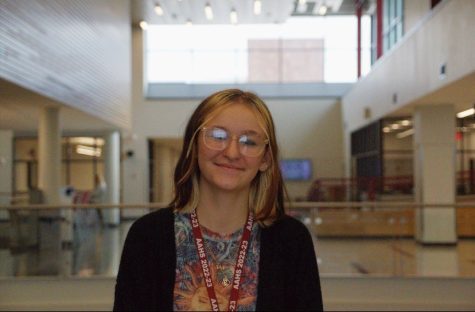 Kirstyn Hood, Reporter
Hi! My name is Kirstyn Hood. This is my second year in the journalism program, and my first year of the AAHS Mountain Echo staff. I have enjoyed writing...