Vocal Ensemble to perform at Graystone Manor
On Friday, Dec. 16, the vocal ensemble will be performing different songs for the residents at the Graystone Manor. Originally, the audition-only group was supposed to have a tour day. In the morning, they were scheduled to sing for the residents of the Veterans' home. However, due to an uptick in cases of influenza and COVID-19, this portion of the trip had to be canceled.
"Students are performing at the Graystone Manor. We have performed at the Veterans' Home before in collaboration with the Patriotic Student Alliance, and we caroled from room to room and performed a holiday program in the main hall," choral director Kelly Sipes said. 
Sipes has been the director of the chorus program for 14 years. Sipes has since created a YouTube channel that everyone can view. 
"A lot of the places at which we perform request for us to come back annually. During the pandemic, students in the vocal ensemble recorded holiday music. Then, I compiled those songs on a DVD and created a YouTube channel, so we could still share the spirit of Christmas with residents," Sipes said.
The Covid-19 pandemic caused difficulties for many groups such as the vocal ensemble, due to the lockdown and masking restrictions.
Vocalists will be singing several selections they have performed at earlier concerts this year, such as "Gaudete," arranged by Michael Engelhardt, "Christmas on Broadway," arranged by John Higgins and Christmas carols such as "Silver Bells."
"My favorite song that we are performing is Gaudete," senior Gracie Crider said.
Crider has been a member of the vocal ensemble for four years. She was also a member of the vocal ensemble at the junior high school.
"I like being able to spend time with some of the people I care about most and sing with people who are like me," Crider said. 
"My favorite part of being in the vocal ensemble is that it doesn't just feel like a class, but a safe space for young musicians," sophomore Skylar Rutherford said. "I've met some of my best friends in vocal ensemble. It's not just students in a class, it's a family."
The vocal ensemble consists of 25 members. Rutherford feels as if this allows her to form a deeper connection with those members.
"My favorite song that we are performing would have to be "Guadette," and I know that it is also a lot of other people's favorite song too,"  Rutherford said
This is Pentland's first year in the vocal ensemble. They have been in chorus since junior high school.
"I like how we can all come together with each other to create beautiful music," Pentland said. "Everyone adds something unique to our sound."
Leave a Comment
About the Contributor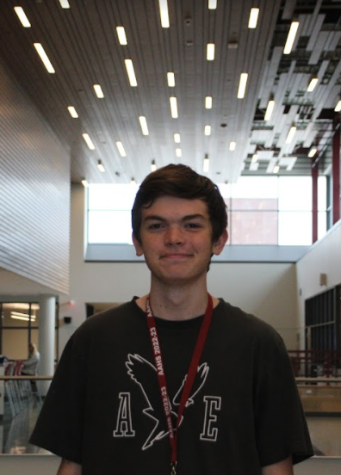 Ryan Longstreth, Reporter
Hi, my name is Ryan Longstreth and I'm a junior. This is my first year on the Mountain Echo staff! I enjoy creative writing and have been doing so as a...