Student council distributes holiday food baskets
On Dec. 14, student council held their annual food basket collection. Student council has been doing this for around 35 years. 
Club adviser Kimberly Shope along with the other student council advisers, club members and volunteers were in charge of collecting and sorting the baskets. 
"Student council has always had a food drive, and at one point, we felt we could make the food drive work in favor of our own students in need and their families. We switched to the food basket idea and the additional items have grown from there," Shope said.
Packing the baskets took around an hour to complete according to Shope. About 20 student council members attended the event to help pack the baskets.  
"We typically collect and prepare 50 baskets for our families. This year we did 35 so each family received a basket and two additional bags of food, as well as a plate of homemade cookies and a gift card. Every year is a bit different, it's hard to say why the numbers were different this year," Shope said. 
According to Shope, 35 families received baskets. The contents of the baskets included canned foods such as vegetables, fruits, soups, meats, pasta and sauce, cereals, syrup,pancake mix, boxed mashed potatoes, mac and cheese, pudding, jello, ramen noodles, cake or brownie mixes, crackers, juice, peanut butter and paper products. 
"It's something that anyone can get involved with, and it is a whole school activity, classes, offices, teams, clubs, etc. Supporting the needs in our own community," Shope said. "
Shope, along with the guidance counselors, the school social workers, some teachers, security personnel and a few student helpers helped to distribute the baskets to families. 
"Families are so appreciative of the help that these baskets, treats and gift cards offer them at a particularly challenging time of year [the holidays]. We get so many thank yous from the families, it lets us know this project is necessary, is welcome by the families and encourages us to continue it," Shope said. 
Senior Sean Bettwy is student council president and attended the event. Bettwy has been involved in student council for over four years. 
"I helped to load the baskets and then organize them so they could be distributed easily," Bettwy said. 
As president, Bettwy felt obligated to attend the event, but he especially wanted to help out with this because he knew the baskets would be going to families in need.
"Student council does these food collection baskets because they realize how much the community needs them, and they have a moral obligation to assist the community in whatever way possible," Bettwy said. 
These food drives help the community in a positive manner, according to Bettwy. 
"These events were attended by dedicated student council members, but they can also be attended by anyone who looks to help the community.  With that being said, I encourage others to reach out to myself or Mrs. Shope to attend a meeting and/or other events," Bettwy said. 
Sophomore Madelyn Pastore attended the event because she enjoys helping out with student council. 
"I helped make sure all the right food was in each basket and made sure we had the right amount," Pastore said. 
Pastore has been in student council since seventh grade and has loved it ever since. 
"Student council holds these collections to help out the families in our community that are in need," Pastore said.
Although Pastore was not amongst the group who helped distribute the baskets, she plans on helping out in the future. 
"I love helping out people when they need it, and I absolutely love helping with student council," Pastore said. 
Leave a Comment
About the Contributor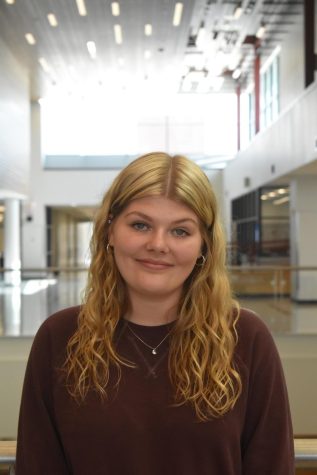 Stayley Drenning, Reporter
Hey! I'm Stayley Drenning, and I am on the AAHS Mountain Echo staff. I've enjoyed writing for as long as I can remember, and I am so excited that I can...