Coaches impact athletes
For some athletes, coaches become family and create an impact on the athlete that may last a lifetime. 
Girls' golf coach Kirk Dodson loves seeing the progress the girls make within the sport and bonding with each other. It makes him happy to see the athletes getting along and making friendships throughout the season.
"We've had some girls on the team who never play golf. To watch them over the course of a short season learn how to hit the ball or how to advance the ball and learn different facets of the game is very exciting to see," Dodson said.
Dodson believes the team has done as well as they have because of the way they all bond.  
"We have made some great strides. We had a girl, Ellie Filer, who finished fourth in Districts this year. Last year, we didn't have anybody. We had people competing and already placed in the district. Ellie presently is the most accomplished female golfer in the history of the Altoona Area School District, and that's just the second year," Dodson said. 
Sophomore Anna Resig is on the track team. According to Resig, Head coach Paula Foreman coached Resig into becoming a better runner. Foreman has provided Resig with the support system she likes to have in a coach.
"We have a different bond because I puke after I run. She has impacted my life in a positive way. She's made me a better runner. She changed my event because I was puking whenever I'd race a longer distance. She's been there whenever I've needed the extra support to make me a better runner," Resig said.
Senior Katie Hovan  is on the tennis team. Hovan has known her coach, Jacob Colledge for seven years. She has created a tight bond with Colledge since he became her coach last year. 
"I knew Colledge before he became my coach as of last year.  I've been playing tennis all my life because my uncle Eric Hovan was running the tennis team at Altoona for a long time. Colledge would help out during summer clinics to teach little kids how to play and feed balls, including me. About four years ago, he had become a volunteer coach during the girls' and boys' seasons and took over for my uncle who left for Saint Francis. From him being close to my uncle, I've become semi-close with him from that. Colledge knows most of my other family members personally and values or acknowledges my goals and accomplishments," Hovan said. 
Throughout Hovan's time playing tennis, Colledge has been there to give Hovan advice that she wouldn't get regularly. 
"He's been able to give me different advice that I don't normally get from other people and opportunities to try different things with his support and guidance," Hovan said.
According to Hovan, Colledge has been there for her throughout her wins and losses whenever it comes to tennis. 
"Colledge comforted me after I lost my spot as number three and became four because I was very determined to become three the entire summer. He told me something on the lines that I wouldn't be here if I didn't care, and I care about tennis so much that I can work harder and get farther than the mistakes I make," Hovan said.
Leave a Comment
About the Contributor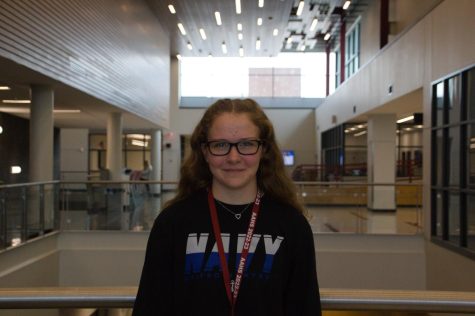 Ash Carini, Reporter
Hey! I'm Ash! This is my first year on staff, but my second year in publications. My interests are photography, music, running, and drawing. My biggest...