Students, Staff Discuss Pep Rallies
On Jan. 13, the school held a pep rally for the winter athletes. Principals, teachers, winter athletes and the band all took part in the rally.  
During the pep rally, the winter athletes were recognized for their seasons.
"I think it is a great idea to get the whole school together to see what their classmates are involved in and to try and encourage the general school population to attend games and events," physical education teacher Tom Palfey said. 
Senior Evan Alwine believes having a pep rally gives students something to look forward to. 
"It was a great way to get the entire student body excited and involved in the winter sports.  It was also an opportunity for them to get out of class and just have a couple class periods to take it easy," Alwine said.  
Sophomore Lucas Sipes thinks holding pep rallies is something important to do, as it pulls the whole school together to celebrate the sports teams accomplishments.
"I enjoyed the pep rally. I think it's super important to get the whole student body involved with extracurricular activities. It was cool to have the band, teachers, students and athletes all there all at the same place celebrating the same achievements and goals,"  Sipes said. 
According to Sipes, pep rallies are a crucial aspect to school spirit for fans.
"I think it's a great idea. We need people excited for Altoona sports. I don't think people have really been excited to go to sporting events, and we have a change the culture. Not even just sporting events, anything extracurricular. We need school spirit up and down the halls of this school and what better way to start," Sipes said. 
Tynasia McNeal cheers on everyone with her fellow cheerleaders at pep rallies.
"The pep rallies keep the school spirit and hype for games going. It is also very awesome for me to be a part of the pep rallies cheering on the teachers, players and even Mr. Neely. They are very enjoyable to watch, laugh and just have a good time all around," McNeal said. 
The athletes were told about the pep rally a week in advance.
"I didn't really know what to expect. It was really fun, and I was really happy with how it turned out. I really can dunk a basketball though, but I just wasn't ready at the moment," Alwine said.
For the pep rally squad, they have to reach out to the necessary people to be able to have pep rallies.
"I am actually on the pep squad, and we meet and discuss the theme of the rally and reach out to all the necessary people to get the band, Lioneers and cheerleaders involved along with the various sports being honored at that particular pep rally," Palfey said. 
The band doesn't really need to prepare for the pep rally, as all of the songs they play at the pep rally are the same songs they play at every game they go to.
"We usually play the same songs we play during any games we go to. We find out which songs we are playing as we go into the bandroom right before we head down to the gym for the pep rally," Owen Smithmyer said.
Leave a Comment
About the Contributor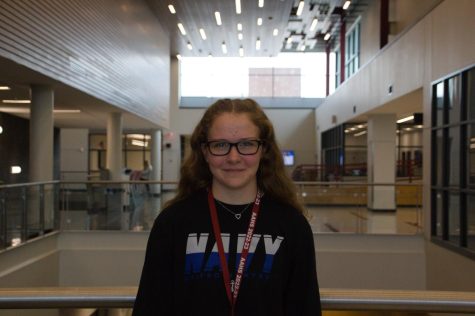 Ash Carini, Reporter
Hey! I'm Ash! This is my first year on staff, but my second year in publications. My interests are photography, music, running, and drawing. My biggest...