From Sudan and the Philippines to Altoona, Pa.
Two students explain what it's like to move countries
Junior Mohamed Ahmed and senior Kristel Basile have both experienced dramatic changes in scenery in their lives. When Basile was 11 years old, she moved from the Philippines to Altoona. Ahmed lived in Sudan until he was one year old, moved to Saudi Arabia–where he spent most of his childhood–and then moved to the United States.
Before moving to Altoona, Ahmed spent two years in New Jersey, where his aunt currently still lives and works as a nurse. The junior has lived in Altoona for a total of five years.
In Saudi Arabia, Ahmed went to a private school where he learned English, so learning a new language wasn't an obstacle he had to overcome. However, he faced the challenge of students misunderstanding his experience.
"Some students think I escaped the country or something. They just don't understand how it is. A lot of people just move countries. I feel like kids in school just don't understand that. It's okay to move to different countries for benefits," Ahmed said. "People make fun of the country I'm from. But it wasn't really a big deal because I'm kind of proud of that. I'm proud to be from a different country, to speak a different language."
Ahmed, and his mother, father and siblings, moved to the United States in order to obtain more educational and work-related options.
"I think just a positive thing is really education. There's definitely more opportunities here in the United States. That's why they call it 'land of opportunities.' I'm just really here for school," Ahmed said.
With uncles still in Saudi Arabia and one living in Qatar, Ahmed still keeps in touch with family members who aren't living in the United States. 
"We usually go on vacation back to Sudan every two years or so. It's usually the whole summer. If not, it's some kind of time in winter like Christmas break. I was actually there recently last summer," Ahmed said. 
Even though Ahmed has experienced a lot of change, he feels he is fully adjusted. His life now is very similar to the life he had in Saudi Arabia.
"
I'm proud to be from a different country, to speak a different language."
— Mohamed Ahmed
"Comparing the U.S. to Saudi Arabia, there's nothing really different. I liked it better in Saudi Arabia because of the religion. I'm a Muslim," Ahmed said. "But everything else is pretty much the same."
Basile, on the other hand, feels her life in Altoona is notably different than in the Philippines—especially when it comes to school.
"In the Philippines, the kids can actually go outside in school. We have a school ground. Here, you're kind of stuck inside. We also have recess, especially in high school. Here, you have lunch, and that's it. Also, students just stay in the classroom and teachers move," Basile said. "Lunches were also different. You can eat outside, or you can get out of school and go eat somewhere else with your friends. Here you just have a lunch room, and you have to eat in that lunch room. The other thing that was different is that, in the Philippines, students have to wear uniforms, and here you can just wear whatever you want."
When Basile first moved to Altoona, she experienced a "culture shock." 
"When I first came here, it was very different. I was the only colored person in class. I just didn't feel comfortable in my new environment. This school is very different from the Philippines. In the Philippines, the school is a lot smaller than here," Basile said.
Basile, her mother and her sister moved to the United States in order to acquire more work opportunities after her mom married and divorced. At 11 years of age, the now-senior left her relatives in the Philippines and discovered a different world.
"I've made a lot of friends along the way. I met a lot of people. When I first came here, I didn't know how to speak much English. I improved. And there's a lot of opportunities to get your job [here]," Basile said.
Basile is visiting her family in the Philippines in the coming summer. When she isn't visiting them, she keeps in contact with her cousins over the phone.
Although Ahmed and Basile are living in a different environment, both students try to remember their past.
"I was always taught to never forget where you came from. I kind of blended in pretty fast. I just try not to forget where I came from and to remember my roots," Ahmed said.
Leave a Comment
About the Contributor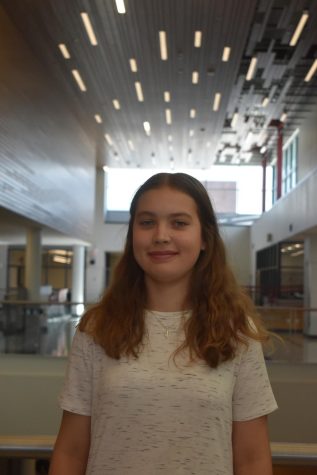 Melissa Krainer, Reporter
Hi! My name is Melissa Krainer, and this is my first year reporting for the Mountain Echo. I am very excited to be a part of the staff this year as a freshman!...