Students home, school lives affect one another
When sophomore Mary Worley gets home, she grabs a snack and a drink, then works on homework she has organized on a Google document. After her homework is done, she takes her two dogs on a walk. 
Worley takes honors and academic level classes. She is also a member of the astronomy club, drama club, softball team and tennis team. 
"I do around 12 to 18 hours of work for all of my activities combined. I would say I do about three hours of work each day, but if I don't have as much, only two hours," Worley said. 
According to Worley, her home life affects her focus toward doing school work. 
"When I have stress about not doing work at home, it makes me have even more stressed about school because I feel like I have to do stuff at home before I do any of my homework. This makes me have late work, or I stay up very late and don't get my full eight hours of sleep," Worley said. 
On average, Worley gets four to five hours of sleep per night. 
"When I only get half or about half of the amount of sleep I'm supposed to, I feel very tired in some classes and that makes me lose my focus, and sometimes I don't know what I'm doing," Worley said. "When I get a lot of sleep, I am more energized and feel much faster while doing work. When I don't get enough sleep, I feel lazy and feel very tired during class." Worley said. 
Junior Claire Piper is taking AP and honors courses this year, along with chorus and vocal ensemble. Her senior year she plans to take more AP and honors classes, along with chorus, vocal ensemble and advanced theater. 
"I typically spend around 22 to 23 hours a week doing activities: normally 12 hours of drama and 11 hours of work," Piper said. 
Piper is involved with the drama club and also coaches gymnastics.
"The standards my parents have set for me have pushed me to work harder in school and out of school," Piper said. 
Piper on average gets seven hours of sleep per night. 
"Normally, I'm in a good mood in the morning, but as the day goes on, I get a little grumpy," Piper said. 
In Piper's opinion, junior year is hard but will be worth it in the end.
"On days I get more sleep, I am able to focus more and get stuff done, whereas on days with little sleep, I drag and struggle to pay attention," Piper said. 
Senior Christina Dicus spends most of her day doing community service.  
"I'm planning to go to a music and arts school for college in fall of 2023," Dicus said. 
Dicus' involvement in school includes being a part of the vocal ensemble, Foreign Language club and drama club.
"I spend at least eight hours per week with drama and five with vocal ensemble," Dicus said. 
Dicus tries to get seven to eight hours of sleep every night.
"When I get a lot of sleep, I feel more confident, more awake and just overall I'm in a better mood," Dicus said. 
According to Dicus, her home life affects her deeply. 
"When something is not right at home with my parents, something is not right with me," Dicus said. 

Leave a Comment
About the Contributor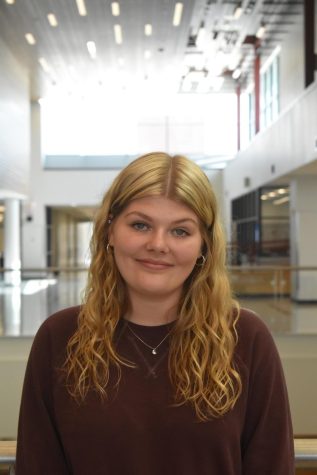 Stayley Drenning, Reporter
Hey! I'm Stayley Drenning, and I am on the AAHS Mountain Echo staff. I've enjoyed writing for as long as I can remember, and I am so excited that I can...