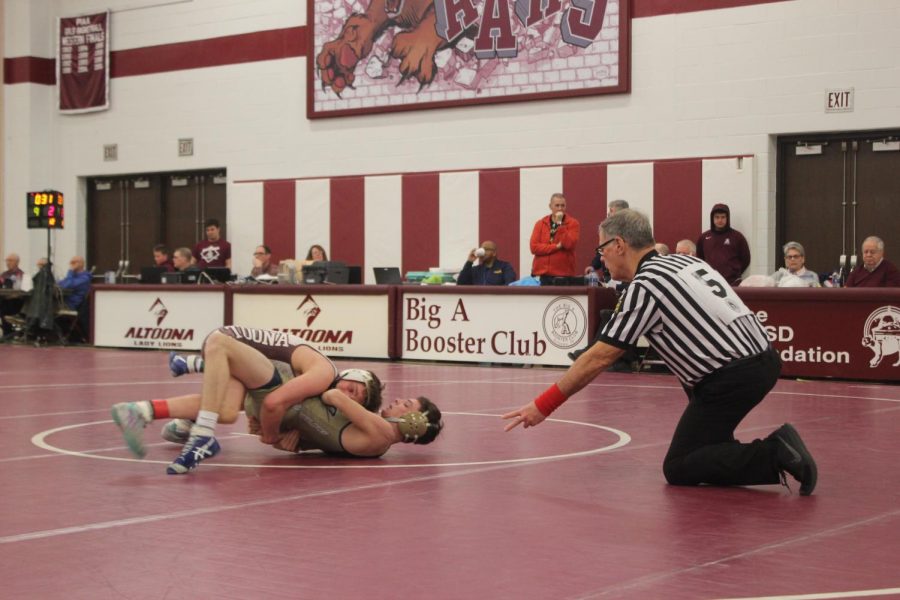 Wrestlers place at district, regional competitions
March 4, 2019
On Feb. 23, the wrestling team competed at the individual districts, resulting in a number of wrestlers placing to continue onto regional and state tournaments.
Sophomore Matt Sarbo finished first at 126, sophomore Josh Keirn received third place overall, senior Jordan Wagner achieved third at 132 and freshman Luke Hileman placed second in his weight class. Senior Nate Simmers became the leading wrestler of the tournament, earning first place overall at 285.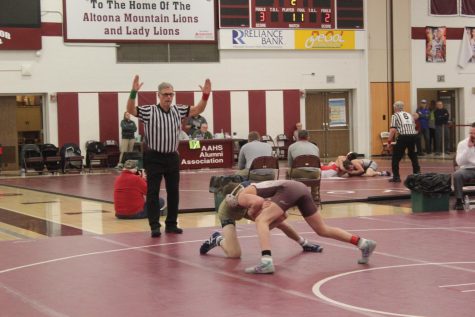 From March 2-3, the AAHS wrestling team competed at the individual regionals, with several wrestlers placed into the upcoming state tournaments.
During this weekend's regional competition, Simmers placed second while Sarbo claimed first place overall.
This year is Joel Gilbert's twelfth year as head coach of the wrestling team, adding up to 20 years coaching overall. For those 12 years, Gilbert has prepared his team throughout the season with care and concentration.
The wrestling season lasts three months with each month serving a particular purpose. During the first two months of wrestling season, the team practices for three hours a day which consists of rigorous teaching, drilling, running, wrestling and weight lifting.
"The month of February is our time to peak for the individual districts, regionals and state tournaments. Our practice intensity is high, with live wrestling and drilling, but we cut practice times to an hour or an hour and fifteen minutes. The shortened practices give our wrestlers a chance to let their bodies heal from a brutal regular season and still keep the conditioning they earned with all the wrestling throughout the season," Gilbert said.
Wrestling is a demanding and challenging sport that requires both mental and physical strength from wrestlers. Despite this, most wrestlers enjoy this aspect.
"My favorite thing about wrestling is the intensity," sophomore wrestler Colin Allmond said.
This is Allmond's twlefth year in wrestling. He loves the sport and has massive respect for his coach as well.
"Wrestling means hard work and dedication. He [Gilbert] pushes you to your limits and makes you live up to expectations," Allmond said.
After 20 years of dedication to the sport of wrestling, Gilbert still enjoys coaching his team.
"Wrestling is filled with struggles and discipline, and when I see a student-athlete commit to being the best wrestler and best student they can possibly be, that is the most enjoyable part of the sport for me," Gilbert said.
The wrestling team is now moving onto the State Championships in Hershey, PA.