Musicians travel to Pittsburgh for festival
PMEA State Music Festival in Pittsburgh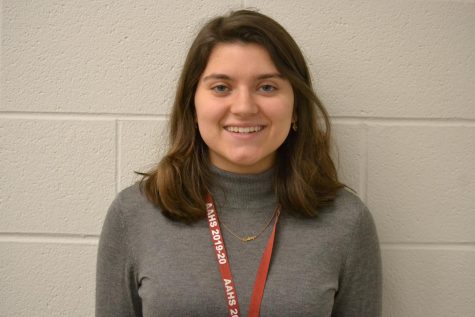 More stories from Sydney Wilfong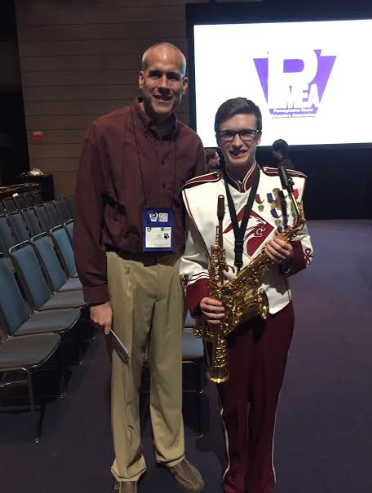 From April 3 to April 6 selected musicians traveled to the PMEA State Music Festival. Each year the all-state festival is hosted in a different city of Pennsylvania, and this year the festival took place in Pittsburgh at the PMEA State Conference at the David Lawrence Convention Center.
For the event, students must devote extensive hours to studying and practicing their music, including after-school hours.
"…we had nine days to learn six pieces of music, and I maybe practiced around five to six of those days," sophomore musician and chorus member Wesley Lane said.
"For a week and a half, I practiced every day. During the last few days before [the festival], I practiced in the mornings to fine tune my repertoire," senior band musician Ian Brannan said.
Most students practice for hours, hoping to achieve perfection with their music.
"I probably practiced an average of a half an hour each day for states, though some days I practiced for around three hours," senior orchestra musician Marissa Abbott said.
To prepare, teachers meet with their students outside of school to help them practice and arrange their music accurately.
"For chorus, I make digital rehearsal tracks that students can practice with," chorus teacher Kelly Sipes said.
Before the festival, music teachers and students encounter certain challenges such as limited time or hectic schedules.
"The biggest challenge choral students face is the lack of time. Most of the students who attend these festivals are the same students who are heavily involved in other aspects of the music program and in drama. For example, the lead of 'Little Shop of Horrors,' [senior] Christian Howard, has had to balance learning a huge amount of music and lines for the show, all while preparing ten to twelve additional pieces of music for the competition," Sipes said.
To achieve their own greatness, each individual musician must dedicate hours upon hours of practicing for the festival.
"It takes a great deal of commitment, but the experience of performing at these top-level groups, with renowned guest conductors, is incredible," Sipes said.
For choir, Howard and Lane had to learn various challenging songs, even some that were sung in Hebrew.
Chorus was not the only group that encountered challenges in preparation for the auditions, as both orchestra and band invested just as much devotion and hard work.
"They put in the practice hours to continue to grow and mature as musicians. But during the school year, they spend many extra hours in the mornings and after school and even on weekends working on their music to qualify. They need to qualify for districts, then qualify for regions, then finally qualify for states. It is quite a process," orchestra director Kelly Detwiler said.
Altoona musicians have participated in states for more than 40 years, and Detwiler has been involved for 28 of those years.
"
Their reaction is worth all the time and hard work. When they perform with the state groups, it is like listening to the professionals. I love every second of it!"
— Kelly Detwiler
"The competition keeps getting better and better. Each time, you have to keep better and better! Scores get closer and closer together.  Sometimes it is just one point that gets you into states. But if you want it bad enough….you work for it!" Detwiler said.
Throughout all these years, preparation for the pre-audition and auditions is still the most overwhelming process prior to the festival.
"They put you into a room based on your voice part or instrument. You are not allowed to sing or play your instrument in the holding room or else you will be disqualified…Between you and the judges is a white screen, so you cannot see them and they cannot see you….You are not allowed to speak to the judges at all…your chair placement determines whether or not you move onto the next stage into the festival. For example, top 24 get into Districts, top 12 get into Regionals, and top 4 get into States (for choir)," Lane said.
Despite the stress that the musicians experience during auditions, most feel relieved and more relaxed once the festival begins.
"…once auditions are over and seating has been announced, it's a chance to meet other musicians from other schools and make new friends," Abbott said.
Abbott has participated in the PMEA festivals since her sophomore year; however, this is her first time making states with the orchestra.
Because of all the dedication and time put into the auditions and practices, the conductors set expectations for the student musicians;  imposing a sense of professionalism in musical reading, performance and maturity.
"…you have little knowledge of the competition you are up against. During the festival, chaperones are super strict, understandably so, with IDs and sticking to schedule, so they really have a zero tolerance policy for a lot of stuff," Brannan said.
Brannan has participated in the PMEA festivals since his sophomore year. This was his third year at the all-state festival.
For many of the seniors, they have witnessed the changes throughout the festival, and each year becomes more demanding.
"The music slowly gets harder and the amount of time to prepare for each festival (usually) decreases, so it can be a bit difficult to prepare all the music in time. Also, these are orchestral parts, not solo parts," Abbott said.
Many musicians who have participated in the all-state festival have qualified for the PMEA all-state conference and the all-east ensembles. Senior Zane Esworthy and junior Daniel Kennedy have both succeeded in placing in the all-east festival.
Sophomores and juniors who enjoyed their first or second festival have the opportunity to apply for nationals which take place next fall.
"I'm really interested in music and being able to sing with other people. I also like to see different styles of conducting due to the fact that you aren't being conducted by your own conductor," Lane said.
Even with the stressful nights and the tense, almost-scary auditions, student musicians still find a way to have fun with not only the music but the people that are surrounding them. With students from different schools, many make close bonds with one another, which is something that seniors will deeply miss.
"I'm really going to miss the PMEA atmosphere. The groups of friends you make being in PMEA are amazing, and there are many jokes made that I'll miss," Abbott said.
"I'm going to miss the nights in the hotels with the bros and the fun on concert day with all of my new PMEA friends," Brannan said.
The teachers can relate to the students' enthusiasm, and they too appreciate and take pleasure in watching the festivals and some even look forward to it.
"I see the students reach their highest potential when they reach this goal. Their reaction is worth all the time and hard work. When they perform with the state groups, it is like listening to the professionals. I love every second of it!" Detwiler said.
At the PMEA all-state music festival, there is something for everyone to love, whether that be the conductors, teachers or student musicians (some of whom are aspiring professional musicians). The festival offers an entertaining and educational experience that will be remembered for many years.
About the Contributor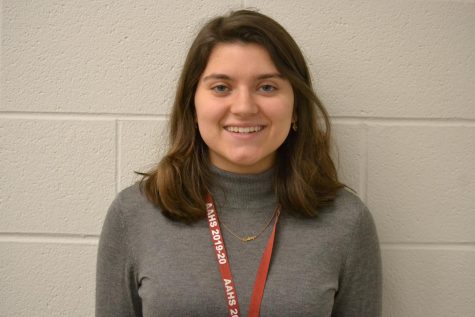 Sydney Wilfong, Associate Editor
I'm Sydney Wilfong, a junior at AAHS. I'm a part of the band as a tenor saxophone player. On the days I have time, I enjoy writing, reading, and watching...