Out of the darkness suicide prevention walk unites community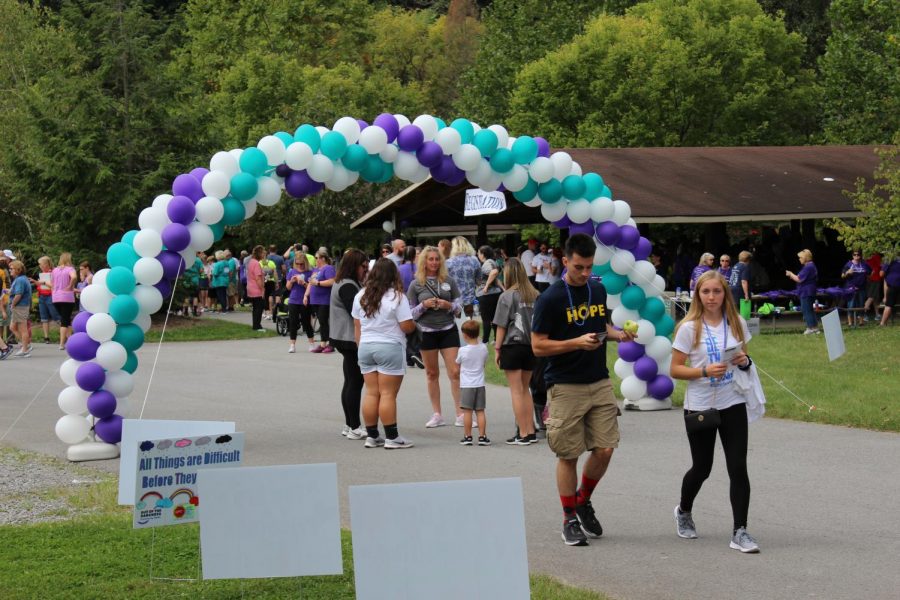 On Sunday, Sept. 8 at Lakemont Park, there was a suicide prevention walk held from 1 p.m.-3p.m.
"The walk was an amazing way of showing love and providing support to those who have lost a loved one due to suicide or are struggling with self-harm," Guidance Department Chair Drew Yingling said.
The walk was open to all of Blair County and was one of the biggest walks the organization has had to date.
"This walk made a huge impact on my life, and I felt many different emotions throughout the walk. When we first started, I was happy that this was happening and that so many people can come together and make such a huge impact in our community. Towards the end, I started to feel more upset because I lost a loved one due to them taking their own life. This walk helped me cope with the loss of my loved ones because I am not alone. There are many people out there dealing with the same problem, more than I thought," junior Ericka Selfridge said. 
This year's walk was celebrating nine years.
"This was my first Out of Darkness Walk. I found out about it from a good friend who lost his wife to suicide earlier in the summer. The walk gave me an opportunity to represent my friend who took her life and support the family she left behind. I was also able to meet other people in our community that are dealing with, or have dealt with, the loss of someone due to suicide. I feel that it was an important event to participate in so that I could personally learn more about suicide awareness. The walk really affected me in a positive way. It was very emotional, tears were shed, but it needed to happen to help me finally accept what happened with my friend. I was overwhelmed by the bead ceremony, learning what each color represented and see those strong people step forward on stage representing each color. I would definitely recommend this walk to anyone who has lost a loved one to suicide. There was such a strong feeling of support and acceptance at the walk; I think it would help families realize that they are not alone in their loss and that other people do care. Walks like this one positively impacts our community by bringing everyone together that all have a common connection. It lets us all know that it is okay to discuss suicide and suicide prevention. It spreads the word that there is help available for those dealing with suicidal tendencies as well as those dealing with the loss of a loved one," Geri Selfridge, walk contributor said. 
The walk was prepared for by registering online through a specific team. There were also Facebook posts and pages set up to help raise money for the teams.
"In today's society kids are getting bullied more and more every day, and as it is increasing in schools and online, adult bullying is increasing as well. In today's society bullying is so common almost everyone deals with it. People can be affected by being bullied, being in a bad relationship, not having a good family life or losing a loved one. People just need to come together and realize that we are all humans and bullying shouldn't be an increasing problem. It is damaging and tearing apart many families. This loss has affected me very much, and it showed me that no matter what always be nice," E. Selfridge said.
"
One kind word can change someone's day, it can change someone's life. "
— Ericka Selfridge
Blair County houses a Suicide Prevention Task Force available to help those thinking of attempting suicide or for anyone who knows may need a little extra support.
"Unfortunately, today's society is riddled with bullies ranging from elementary school youth clear up to adults. I will never understand how bullies cannot see the damage that they are causing. My advice would start with telling the person suffering that THEY ARE LOVED! They are NOT alone and more people understand their situation than they think. I would suggest reaching out to a family member, counselor, pastor, etc. Someone to talk to about what they are dealing with," G. Selfridge said. 
Geri and Ericka walked on the team for Becky Hoover, also known as the store owner of Trends by Poppy.  They wore the color purple and started sharing their love with the #remeberpoppy.
" My lost loved one was a beautiful soul who was truly loved and respected by so many in the community. I will remember her for the inspiration she was before adult bullying became an everyday part of her life and robbed her of feeling safe and comfortable and loved within her own community," G. Selfridge said 
After the walk, the members of the walk released balloons in honor of their loved ones who they lost.
"The most memorable part of the walk was when we let the balloons go. It made me feel really good like we were doing something good and sending a message," E. Selfridge said.