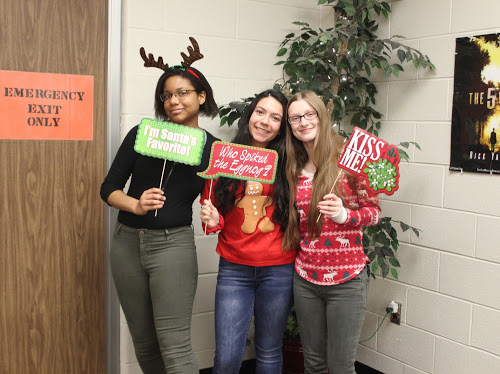 Student council members to spread cheer at Garvey Manor
Carols, as America knows them, have not always been what they are today.  Carols were first sung in Europe many years ago, but they were not considered Christmas carols. But today carols remain just for Christmas with the high school taking part in spreading the holiday spirit.
This year the Student Council club will be traveling to Garvey Manor nursing home on Friday, Dec. 13 to sing Christmas carols. 
There are 25 student council members who are participating in this caroling activity. The student council club has done this event many years in a row, which is why many seniors have experienced caroling at Garvey Manor.
Senior Gianna Marasco thinks spreading the Christmas spirit is the best thing about this field trip.  
"I love bringing joy to the elderly and bringing Christmas spirit to them," Marasco said. 
Junior Andrea Kiser and sophomore Mackenzie Kelley will be participating in their first caroling field trip this year. Marasco, Kiser and Kelley believe making people's lives better is the biggest impact of this field trip. 
"It makes me feel that I am making people's lives better," Marasco said.
"It gives the residents some holiday jolly, especially the ones who don't have a family to visit them," Kelley said. 
"I believe it will help me gain a greater appreciation of the generation that came before us, sitting and listening to the residents and hearing about things they have gone through in life," Kiser said. 
Student council members sing many Christmas songs throughout the day.
"The song I hope for us to sing is Jingle Bells because it is my favorite Christmas song," Kelley said.
"I hope that we sing Deck the Halls," Kiser said.
Participating in the caroling field trip can help the student council members gain important lessons.
"I hope they gain a sense of appreciation toward everyone during the holidays and that not everyone can experience the same type of holiday," Marasco said.
"I would hope we become better listeners, actively listening to the residents and hearing what they have to say," Kiser said.
"We can gain from the experience of just helping others and being able to make others happy and to see how much of an impact we can have by just doing something so little," Kelley said.