Scholastic scrimmage team places second in playoffs
On Dec. 13, the Scholastic Scrimmage team headed to Appalachia Intermediate Unit 8 (AIU8) to compete in the Scholastic Scrimmage playoffs for the district. They finished in second place, beating Bellwood-Antis but lost to Hollidaysburg.
The team is comprised of senior Talon McKendree, juniors Aiden Phillips, Isaac Brumbaugh, Alex Thaler, Joshua Mentzler, and Sonia Yost and sophomore Rich Wei. They are coached by English teacher Jen Lowe. Lowe has been coaching the team for nine years. For this year, Phillips was chosen as captain.
"It is my honor to serve as the captain for my team. I feel that I did a good job leading everyone. I'm happy that we maintained Altoona's legacy of second place," Phillips said.
The team started practicing in September by meeting every Tuesday and reviewing trivia questions. The team would cover a wide variety of subjects and practiced with buzzers so that they could answer questions in a quicker time. They will continue to practice for the rest of the year in order to practice for next season.
"Sometimes we might have a topic or question in a practice that will come up again in the competition. The practices also help us keep our minds sharp," McKendree said.
During the competition rounds, two schools go against each other. Each school is allowed to send four people to the table to answer the questions for that round. Each round is made up of ten toss-up questions and six team questions.
During the toss-up questions, the schools have five seconds to buzz in with their answers. If the team gets the question right, they receive ten points. If they get it wrong after the question has been fully read, there is no point deduction. If the question had not been fully read, there would be a five-point deduction. During the team questions, the team has one minute to answer six questions.
 "We would sometimes watch the other teams before we went against them so that we could learn the themes of the questions and learn what the other team might be weak on," Phillips said.
The semi-finals were best out of three, and the finals were best out of five. The team lost to Hollidaysburg in the fourth round of the finals. This gave the team second place but was not enough for them to advance to states. 
About the Writer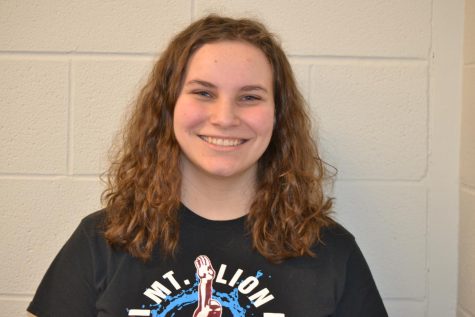 Sonia Yost, Associate Editor
Hi. I am Sonia Yost. This will be my second year writing for the newspaper. I'm pretty involved in school as I am a member of the drama club, scholastic...