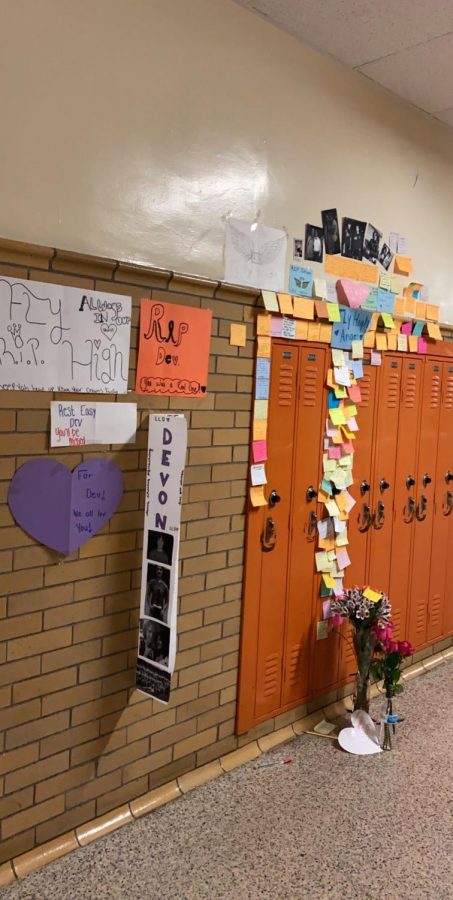 Jocelyn Fetter
After the sudden loss of sophomore Devon Pfirshing, students, faculty, parents, friends, loved ones and family mourn the loss. 
"When I first found out about him and what happened, I didn't look at him as a student or peer that was taken away. Having a 14-year-old brother, I saw Devon as my brother. All I could imagine was losing my brother, and that is how I was able to make myself understand the pain everyone was going through. Because in the end, he wasn't just a peer, a student, or a friend… he was a kid," junior Caley Galarneau said. "I think this whole thing is messed up. No matter what was happening or why he was there, he didn't deserve to die. I never had the chance to meet Devon, but I know he was a sweetheart. He had so much to live for and I am so heartbroken that he will never get to experience everything." 
Students are trying to make sense of the tragedy.
"It affected me as a person by realizing not to take people for granted and to cherish moments with your loved ones. It made me rethink how things can change in an instant and that the world is a cruel place. You must live in the moment. It also affected me by realizing you don't truly know what people are capable of and that the world can be evil and hateful, so we must love and spread joy to one another," junior Hanna McClellan said.
Teachers and students decorated Pfirshing's locker with memorabilia such as notes, flowers, cards and pictures in his honor.  Some students started a petition to suggest giving that locker to Pfirshing's parents. Students visit his locker daily and more notes and pictures are added as well as the flowers' water being refreshed.
"Losing a classmate made me realize how strong of a school we have. I am so appreciative of everything the staff has done to help the students mourn the loss of our friend," Galarneau said. 
Administrators organized assemblies and put out a school-wide survey responding to the tragic loss.  Meetings with principals in English classes focusing on school safety are planned next week.
"I haven't been in school since the day it happened, but when I was in school, they were very lenient with the normal rules. They allowed hurting students to stay in the library and students too emotional to leave school. I heard bad things about the assembly held, but I wasn't there to hear it myself," sophomore Morgan Kearney said.
After the school assembly, students responded to a survey the principals put out to collect ideas from the student body.
"I think kids can just spread love and be kind to one another, be open to others' feelings and most of all just listen. No matter if you were best friends with him or just passed him in the halls, he was one of us and had a giant heart and will greatly be missed every day. We all just need to allow each other to grieve and don't judge and be open-minded when talking to others, " McClellan said. 
Students also mourn by attending Pfirshings memorial decorated with flowers, pictures and notes written by loved ones.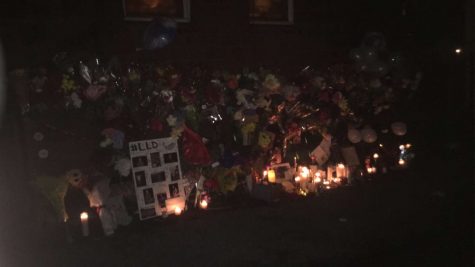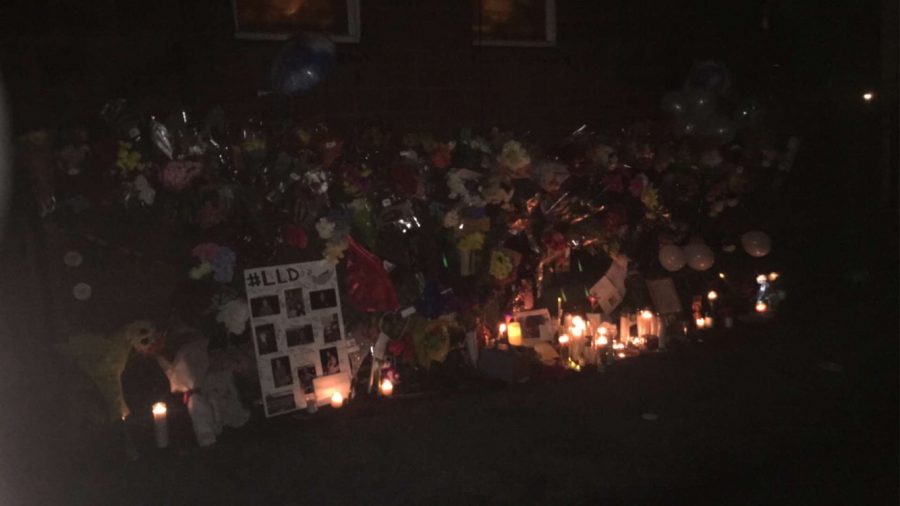 "Truthfully, I do not think that there is a word to describe the pain I feel and have felt since Feb. 25. I lost one of the people closest to me; I lost my first love and forever friend. Devon's been my life for as long as I can remember. And the very thought of him no longer being there breaks my heart. There are no words to describe the love I have for him either. I've made a vow to him and myself to follow through with our plans," Kearney said.  "This tragedy has completely flipped my entire life around. Devon was my everything and more. I don't even feel like myself with him gone. We planned our lives together, and now I have to do it by myself. So I don't think I've ever felt a pain like I do missing him. He was an absolute angel on earth and is now one in the sky." 
Students offer advice to others about coping.
"Surround yourself with all of the people you love most. Reminisce, it's good for you, even if you cry. Celebrate his life as much as you grieve it. Don't try to handle this alone; everyone was affected by this," Kearney said. "Throughout this terrible experience, I was shown absolute love from almost everyone who saw me. I've had non stop messages and calls from everyone. I've grown completely closer with so many people who were also close with Devon."