Lady Spikers open season playing against rival
The junior varsity and varsity Lady Spikers played against Hollidaysburg to kick off their 2020-2021 volleyball season. Although the Varsity Lady Spikers came out with a loss, the JV Lady Spikers came out with their first win of the season.
"I think the varsity team did pretty well for our first game. Obviously there were a lot of feelings involved considering it was our first game and we had been waiting for this for so long and it was Hollidaysburg, so just us finally playing felt really good. We definitely could've done better, but there is always room for improvement and we look forward to improving everyday," senior Anna Batrus said. 
"I feel that we did pretty good considering it was our first game of the season. Especially the JV team since we won. Also, some people haven't played together before and we still did good," freshman Addie Cooper said. 
Although most of the freshman players are on the JV team, some are on the V team. Because the freshman grade is moved up to the high school this year, the freshman volleyball players now have that opportunity to participate on either team.
"I was very pleased with the JV team. I thought the effort and hard work that they have been putting in at practice played off for them. In addition, having a scrimmage under their belt also proved vital. That little bit of game experience in these strange times was able to pay huge dividends for the JV team. The varsity game proved to be a little different. It's tough to start your season with a double header against your rival. Add to it that your rival has already played four games and had some scrimmages to participate in as well. Add in some injuries to players and it was not necessarily the start we wanted. But, looking over our stats, we really did improve as the games went on. We have some adjustments that we need to make as we move to our next few games. From there we will see how things play out and measure what our team can accomplish this season," varsity Coach John Saboe said.
Since it is just the beginning of the season, players are looking forward to improving on their skills for future games.
"I think that because it was our first game we definitely didn't play as well as we could've. As the season goes on and when we get to know each other more we will do a lot better," freshman Sydney Stroup said.
About the Contributor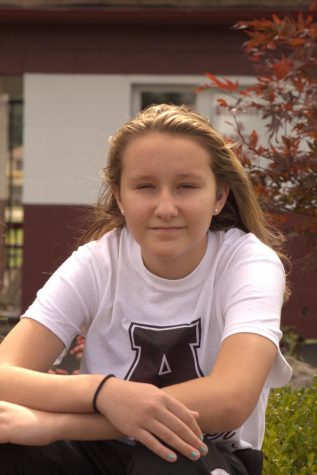 Amy Dean, Reporter
Hi, welcome to my page. My name is Amy Dean. I'm 14 years old, and a freshman at AAHS. I was born and raised in Tampa, Florida. Then I moved to PA when...