Parent, teacher conferences scheduled for Oct. 15, 16
Teachers to use Zoom platform and Signup Genius to facilitate conferences

Parent and teacher conferences will be held on Thursday, Oct. 15 at 4:30 to 8 p.m. and on Friday, Oct. 16 at 8 to 11:30 a.m.
"We need to adapt to the situation we are in, with the COVID situation," Technology Instructional Coach Dr. Nicholas Caminiti said.
This year, parent and teacher conferences will not be held in the high school. Instead, they will be held in a virtual setting. Teachers will email parents with links to signupgenius.com, where parents can schedule a time to meet with the teachers. School counselors will also be available for meetings.
"Parents will click the link that the teachers will send them. Parents will sign up for a particular time and day. They will get a Zoom link, and on the day and time of the meet, they will click the link. This is so that parents don't need to sit in the waiting room in Zoom for hours and wonder 'when is the teacher going to let me in?'" Dr. Caminiti said.
Parents will need to provide their full name on signup genius, as well as the same name on Zoom.
"Parents need to put their full name, exactly what they sign up with in sign up genius. Because if parents put a different name, teachers won't know who they are," Dr. Caminiti said.
There will also be an option for parents to receive phone calls from their students' teachers.
"Some parents may not or cannot use the Zoom app. We are offering a phone call option too. We want to make sure parents can meet with the teachers. Parents can leave a phone number for the teachers on signupgenius.com," Dr. Caminiti said.
This will be the first time the district has tried virtual conferences.
"The biggest challenge will be for parents who have not used the Zoom platform before. . . an issue that normally happens is when conferences go over time, which means every conference after will be behind schedule," Dr. Caminiti said.
As of now, Dr. Caminiti is assisting teachers with the technological aspects of virtual education.
"I'm helping teachers in the classroom use technology in the classroom, but also when they come back, they can use it in the classroom to get away from making packets and copies to help students learn at a better pace," Dr. Caminiti said.
Due to the number of students enrolled at the high school, Dr. Caminiti has had to plan out how many meeting links and emails are needed to make sure everyone is communicating.
"We were sending 121,226 emails daily, we are having 3,700 virtual conferences (daily) and over 5,000 active Chromebooks in the community," Dr. Caminiti said.
But Dr. Caminiti is looking to the future for the possibilities this may bring.
"Down the road, this could be a way for parents who work late to maybe Zoom their students' teachers. It would relieve them of trying to make it down to the high school," Dr. Caminiti said.
About the Writer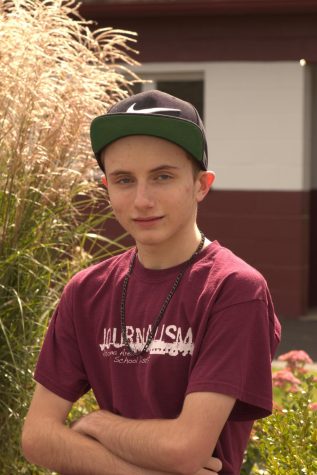 Connor George, Reporter
Hello! My name is Connor George (as seen in the title) and I am a Junior. I was with the Mountain Echo staff last year, and it was a fun time can't lie....