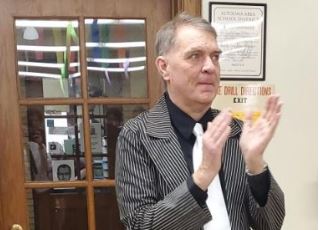 Connor George
On July 27, American History teacher James Lowe checked his school email for district related news. However, when he noticed an email with the subject line, "Congratulations!" he immediately knew that it was the Gilder-Lehrman Institute, telling him he had become history teacher of the year for Pennsylvania.
"I was walking around on cloud nine for days after, it was quite an honor. In fact, as soon as it happened, I started getting messages from other teachers of the year congratulating me from all sorts of states," Lowe said.
The Gilder-Lehrman Institute awarded Lowe with a couple prizes
"There are several things they do; they have an award ceremony for all the teachers, which unfortunately got postponed. They've given me a $1,000 check, and they've given the school an entire collection of history books and other materials," Lowe said.
The Gilder-Lehrman Institute has one of the greatest archives of American History, with over 75,000 documents in their possession. The History Teacher of The Year award has been awarded to others since 1992, when the Institute was founded.
"Getting the award is like getting the Heisman of Teaching," Lowe said.
According to Lowe, he typically doesn't get awards for teaching.
"Teaching is one profession where your reward is with the students. . . so we don't get bonuses for a good job," Lowe said.
When Lowe received the award, he was reminded of his former classes.
"Someone asked me what I was grateful for. I'm grateful for two groups, my former students and my former teachers. My former students are the best, if I hadn't had such good classes, I wouldn't have become as great of a teacher. And my former teachers, they are a strong role model for me, and made me into the teacher I am today," Lowe said.
Lowe is set to attend the award ceremony in 2021, where he will be congratulated by the Gilder-Lehrman Institute.
"COVID-19 delayed it [the ceremony]. It was originally set in November, but it was postponed. So it might happen next year," Lowe said.