Boys' soccer team makes history
The boys' soccer team came out with 10 wins and one loss throughout the season. They advanced to the playoffs and went into the championship game, but the outcome of it was a loss.
"This season was for sure different than anything I've seen before. Finding games for us to play was a struggle at times, but we were able to get a season in even if it wasn't the most conventional. Even with the oddness of how our season was played, I think Altoona soccer had another outstanding season," senior Lucas Vrabel said.
The players had their season cut short so for the seniors it was hard for them since it was their last soccer season playing with other teammates.
"These past four years that the senior class…and I have been in the program have been great all around, especially these past two seasons. Unfortunately we didn't get as far into the postseason as we would have liked to, but this year overall was still one to remember," Vrabel said.
For Vrabel, what he will miss most about soccer is the long-lasting bonds he has made with his teammates.
"Now that the season is over, I'm going to definitely miss not only playing the sport I love, but also the teammates I had and the friendships I was able to create with these people over the past few years. We grew together as a team and helped to lead this program to a great season," Vrabel said.
This season has brought teammates and coaches closer together. 
"I'm going to miss my coaches and playing rivalry games. My favorite memory this season was having team bonding dinners and joking around at practices. I hope that these players continue to work together as a team to have a winning season and get another district title," senior Austin Kravetz said. 
Seniors Bailey Musselman, Graham Black, Kravetz and Vrabel are the captains. The number of captains depends on the year.
"They were fantastic. I was really, really happy about everything. They just built up to being a great senior class. They were that class that we knew was going to be really good. A lot of them are getting recruited and are probably going to play at the next level in college. It was just really successful. We just came in very focused and driven," Coach David McCarter said.
For McCarter, the players–especially the seniors–are who made this season so special. 
"Something that stands out to me about this season would overall just be the passion that they had to be there. We always say to seniors every year, don't take this for granted because this is going to be a memory you have for the rest of your life. We always try to say that to every kid, every year. They didn't take anything for granted. They were concerned about us having a season at all, then when it started they were so happy to be there and were driven. It was super positive," McCarter said.
There were days they didn't have practice, and they were disappointed.
"We practice like six days a week for 10 weeks or more. It is hard and a big commitment and it's a lot of time, and their whole attitude was great about it. There was no negativity which was awesome. The whole mindset of the year was that every game and even practices became special that we just got to do what we love to do. The first day we had official practice they were so happy. Even getting their temperature checked and wearing masks didn't bother them. They just jumped through whatever hoops it takes to get there and do what they love," McCarter said.
Not only has the team been successful in wins, but they have also broken records. 
 "My biggest thing for returners is that wins take care of themselves. We never talk about winning and we have been very successful. It is what it is, you can't win every game but you build success by doing it the right way. They are the most successful team by percentage in school history. They have won more games than the other four year players. This was a great season and they left big shoes to fill," McCarter said.
About the Writer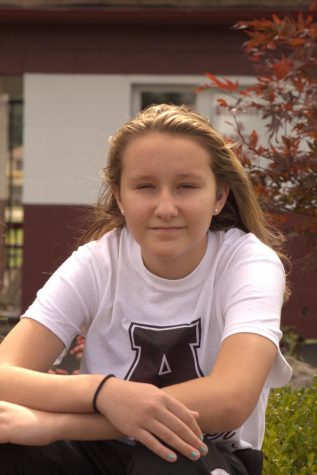 Amy Dean, Reporter
Hi, welcome to my page. My name is Amy Dean. I'm 14 years old, and a freshman at AAHS. I was born and raised in Tampa, Florida. Then I moved to PA when...