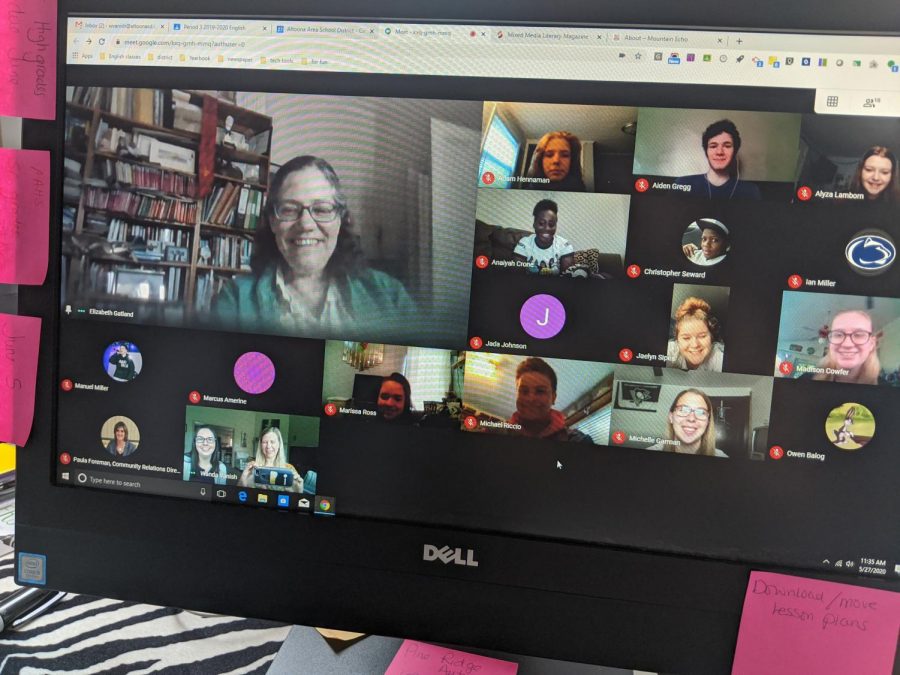 Wanda Vanish
On Oct. 7  author Elizabeth Wein met with some academic English classes in a virtual setting. Wein introduced the historical fiction unit for Alysssa Hetrick's and Wanda Vanish's English classes during their historical fiction unit. Some students met with her in person while others watched a recording.
 Wein is the author of the novel 'Code Name Verity.' This is one of her most student-read novels. 
"I certainly hoped that young readers would be drawn to my books, but I didn't anticipate that so many schools would pick them up. It's kind of a blessing and a curse, because sometimes "assigned reading" feels like a chore rather than a fun read. For me, one of the truly amazing things about Code Name Verity's success is how many readers share it with friends and family and co-workers, so it makes sense that it gets shared in schools, too. I'd be lying if I said this didn't make me extremely happy," Wein said. 
Wein  loves interacting with students around the world.
"A ton of schools read my books – I wish now I kept some kind of count or log, but I haven't. I can tell you that I regularly get questions from students who have been assigned to read one of my books, usually 'Code Name Verity,' and who have questions for me," Wein said.
Students are drawn to the detail in the novel. They were impressed with the amount of research that went into the novel 'Code Name Verity.'
" I learned from her how people had to pretty much teach their own selves how to fly planes because they didn't have much technology," freshman Madelaine Arnold said. 
Wein finds inspiration all around her. 
"I'd find out about interesting people or situations in the past, and I wanted to write about them. Because my setting was already history, my books became historical fiction. But I really think of myself as writing adventure stories, or thrillers, or mysteries or spy novels – I've written all of those. Another good reason for setting books in the past is that it helps them stand the test of time. You don't get caught out by having world leaders change or phones being updated or a new social media trend happening – or a global pandemic occurring –  between writing your book and getting it published," Wein said. 
Students were to choose a book from the historical fiction genre. This was a main focus in freshman English classes for their first book club.
"We want students to analyze the conflicts that shape historical fiction characters. We want them to dive deeper into a historical era, ask questions, do outside research and learn things about that time that they wouldn't have otherwise known. We want them to look for truths about the historical era in their novels, too," English teacher Alyssa Hetrick said.
Wein was inspired by her teachers. There were three teachers that stuck out the most. 
"I had some truly amazing teachers in high school and they all helped me along my career path in different ways. My French teacher, Annette Berman, was in the French Resistance during World War II as a teenager, and her stories of fighting against the Nazis were hugely inspirational. My history teacher, Joe Staggers, made the past come alive – one of my abiding memories of his AP American History class is listening to him recite the Gettysburg Address from memory, and it was like listening to it being delivered for the first time. And my English teacher, Randy St. John, shaped me into the reader and writer that I am today. I am still in contact and friends with these teachers today, and they all read my books," Wein said. 
Wein hopes to continue inspiring others. She has some advice for aspiring writers.
"One, you don't necessarily need to 'write about what you know,' but you should definitely write about something you care about. Your passion for your topic will make it interesting to your readers. Two, don't be overambitious as you're starting out. Try to have a project that you will be able to complete! Know your ending, make an outline, work from a synopsis – organize yourself a little so that you will be able to check off milestones. Being able to finish a project helps you to build up your self-esteem as a writer. Three, join or organize a writing group. Even if you don't share your work with each other, having a writing buddy or buddies really helps to motivate you to get some writing done. And if you are willing to share work, discussing your project can sometimes help to improve it," Wein said.
Wein shares many writing resources for teens through her website.