"Shout" shares story of bestselling author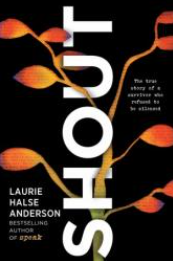 "Shout" written by Laurie Halse Anderson is an autobiography written in verse. If something is written in verse, it is written as an actual story but in stanzas, like a poem.
Laurie Halse Anderson wrote the New York Times bestseller "Speak" almost 20 years prior. Many student at the high school have read this book.  It is part of the contemporary fiction collection for ninth grade and was also turned into a graphic novel.
In "Shout," Anderson tells her story from birth to adulthood, and how a traumatic incident of sexual assault changed her life at age 13.
She talks about all of the good and bad that happened to her which inspired many of her fans and many survivors.
I read this book in my young adult literature class and loved it. I like true stories and thought that Anderson wrote this very well.
I didn't think I was going to like a book written in verse, but it actually made it very easy to read. The pages didn't have a lot of words on them, yet Anderson found ways to give a lot of detail to her story. Some students could probably relate to some things that happened, which would make this a good book for those students to read.
I recommend this book for anyone who likes autobiographies and true stories. This is one of my favorite books and I wish I could read it over again.